The 2017 Halloween Event is a seasonal event that ran from October 19, 2017 to November 2, 2017.
These scary days, as in all things
Fear returns, and from it springs
Quests eternal dark and dreary
And plunge us back to eternal query

The quests you must uphold
This story will be told
By Jack O'Lantern it will unfold
The prize awaits the brave and bold
Jack is back!
The spooky quest giver will challenge you with a series of tasks for you to handle... This time, you will learn about how Jack came to be.
A shiver might go down your spine as you follow Jack's dark origin story. But don't worry! You will be rewarded adequately for your fear - the following two buildings will land safely in your inventory if you follow his instructions.
The Black Tower - a residential building that can produce Forge Points, medals and goods when motivated.
The Graveyard - a culture building. If you already have a Graveyard (in any version) - fear not - you will be able to make it even better!
Graveyard Upgrade Scheme
[
]
To upgrade your Graveyard, use the Graveyard Upgrade item on the Graveyard that is already situated in your city. Its upgraded version will then be placed in your inventory, and the original Graveyard will disappear from your city. The upgraded building will be from your current era, even if the old one was from one of the earlier ages.

Rewards
[
]
Quest rewards
[
]
Overall Rewards
[
]

Complete 7 quests: Graveyard
Complete 13 quests: Haunted House
Complete 20 quests: Graveyard Upgrade
Complete 30 quests: Graveyard Upgrade
Complete 45 quests: Black Tower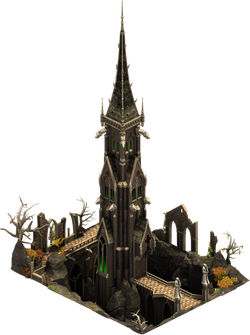 New Buildings
[
]

Questline
[
]


The quests are presented by Jack O'Lantern without any timed delay. Every solved quest rewards the player with a random reward. The quests have to be solved in the order they are presented and no quests are abortable.
For the story behind the questline please see this page.
Quest 1:
Quest 2:
Quest 3:
Quest 4:
Quest 5:
Quest 6:
Quest 7:
Quest 8:
Quest 9:
Quest 10:
Quest 11:
Quest 12:
Quest 13:
Quest 14:
Quest 15:
Quest 16:
Quest 17:
Quest 18:
Quest 19:
Quest 20:
Quest 21:
Quest 22:
Quest 23:
Quest 24:
Quest 25:
Quest 26:
Quest 27:
Quest 28:
Quest 29:
Quest 30:
Quest 31:
Quest 32:
Quest 33:
Quest 34:
Quest 35:
Quest 36:
Quest 37:
Quest 38:
Quest 39:
Quest 40:
Quest 41:
Quest 42:
Quest 43:
Quest 44:
Jack O'Lantern: "In a production building, finish a 1-hour-production 25 times"
Reward: Scarecrow
Quest 45:

Other Events
[
]
Other Events
[
]