Welcome to the great Fall Bake Off!
The 2018 Fall Event is a seasonal event that runs from 12 September 2018 to 3 October 2018.
Get ingredients from quests, Daily Challenges and Incidents. Use them for baking, fill the whole table and get awesome rewards!​
This year, you take part in a baking competition where you need to collect all the ingredients needed and bake as many recipes as possible! There are awesome prizes to be won, so make sure to take this opportunity!
Milestone Rewards
[
]

Event Window
[
]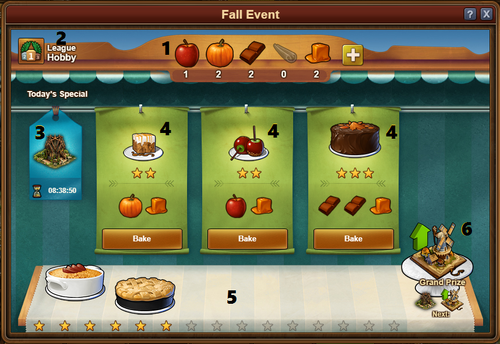 As you can see, the above screen contains 6 primary elements.
This is your Ingredient Counter. Here you can see what stocks you have of each ingredient.
These are Leagues. This is an additional layer of the event which involves prizes on the basis of participation in the event.
This is the Daily Special. It changes every day. Each day, it can be won from all the bakes.
These are the Bakes / Recipes. You need to use up a predefined amount of ingredients to cook them (visible in below the star rating of the recipes). Upon cooking them, you will win some possible prizes.
This is the Fall Buffet Table. It is just a visual record of how man recipes you have cooked up, for the current Grand Prize.
This is the Grand Prize. You need to cook up recipes worth stars to receive a Grand Prize, each time.
Gameplay
[
]
Ingredients
[
]
The Fall Event basically is like a baking programme. You have to accumulate 5 ingredients, namely:
And you have to use these ingredients to bake varied recipes, each using up different quantities of these ingredients. The recipes are just like the chests in the previous events, though the only change here is that instead of one currency (which you used to accumulate throughout the event), you have five currencies!
The primary way of earning ingredients is from the quests, presented by the charming Ms Appleton, but you can also get them from Incidents or Daily Challenges. Of course, you may also buy them with diamonds, if you wish, either as a package or separately.
Getting Ingredients
[
]
You may receive:
Note:
At the Beta release of the event you could trade in 2 ingredients for one in the Extra Ingredients 'quest'. After trading in 2 ingredients you would recieve a Fall Ingredients Selection Kit in your inventory, from which you could choose one of the 5 ingredients. However, this feature has been removed from the event.[1]
You can buy additional ingredients using diamonds:
Recipes
[
]
Coming to Recipes, as mentioned earlier, they're basically treasure chests, just in modified gift wrapping. As you might remember, during the FoE Soccer Cup, every time you used to use a player, you would receive 3 new ones. The same concept is applied over here, just by swapping players with recipes.
Recipes have various star ratings in them. The cheapest ones will be 1-star, and they will obviously have inferior rewards as compared to the 2-star and 3-star recipes.
Also, upon collecting stars, you advance yourself on the Fall Buffet Table. On this table, when you succeed in placing items worth 15 stars, you will win the grand prize, and the table will be cleared for you to keep collecting for the next prize. (The best part of this table is that whatever you've made is placed on the table. A great visual boost!)
Leagues
[
]
And yes, another element from the FoE Soccer Cup is back. Hint: It had something to do with scoring the most number of goals. Kudos if you guessed it right. It's the Leagues System. Again, there are 5 Leagues:
Hobby
Trainee
Apprentice
Professional
Star Baker
This time round, what League you end up in will depend upon the number of Stars you have collected. That means, it counts all stars as individual units. For example, if you bake 1 1-star recipe and 1 3-star recipe, your total will be 4 stars. Also, say you make 10 3-star recipes, and another player makes 15 2-star recipes, both will have the total of 30 stars.
The recipes required to make it into a League (or get relegated from one) differ according to the status of the World.
A few of points to be kept in mind. One, you cannot be in more than one League at any particular time. Second, inactivity can even relegate you, that means push you to lower leagues. And third, Leagues reward activity, i.e. more number of recipes, so make sure to play this event and bake as many recipes as you can. Sweet rewards are waiting for you!
Fragments
[
]
This event introduces a new reward:

Fragments. They are offered as a reward from certain recipes.
Fragments are pieces of Special Buildings. If you collect enough fragments of a building, you can assemble the building in your inventory. During this event you can win fragments of the Shrine of Knowledge and the Wishing Well.
To complete one of these buildings you need to collect 15 fragments specific for that building, so in case of the Wishing Well, you'll have to collect 15 Wishing Well fragments. You can check your progress in the inventory:
Quests
[
]
The event features two questlines. The Main Questline you can go through immediately. Once you've completed it, the Daily Questline will show up. Unlike the Main Questline, in the Daily Questline, you will be getting one quest per day, for the first 21 days of the event. Lets say it takes you 5 days to finish the main questline. After completing that, you will then immediately receive 5 quests without any delay and after that, one quest per day.
The Main Questline offers two parallel questlines after the first four quests.
Main Questline
[
]
Quest 1:
Quest 2:
Quest 3:
Quest 4:
The following quests appear as two parallel questlines, odd numbers for questline 1,
even numbers for questline 2:
Quest 5:
Quest 6:
Quest 7:
Quest 8:
Quest 9:
Quest 10:
Quest 11:
Quest 12:
Quest 13:
Quest 14:
Quest 15:
Quest 16:
Quest 17:
Quest 18:
Quest 19:
Quest 20:
Quest 21:
Quest 22:
Quest 23:
Quest 24:
Quest 25:
Quest 26:
Quest 27:
Quest 28:
Quest 29:
Quest 30:
Quest 31:
Quest 32:
Quest 33:
Quest 34:
Quest 35:
Quest 36:
Quest 37:
Quest 38:
Quest 39:
Quest 40:
Quest 41:
Quest 42:
Quest 43:
Quest 44:
Quest 45:
Quest 46:
Quest 47:
Quest 48:
Quest 49:
Quest 50:
Quest 51:
Quest 52:
Quest 53:
Ms Appleton: "Spend some Forge Points"
Reward: 1 Chocolate and Portrait of Shawn [1]
Quest 54:
Daily Questline
[
]
Quest 55 (Wed 12 Sept):
Quest 56 (Thur 13 Sept):
Quest 57 (Fri 14 Sept):
Quest 58 (Sat 15 Sept):
Quest 59 (Sun 16 Sept):
Quest 60 (Mon 17 Sept):
Quest 61 (Tue 18 Sept):
Quest 62 (Wed 19 Sept):
Quest 63 (Thur 20 Sept):
Quest 64 (Fri 21 Sept):
Quest 65 (Sat 22 Sept):
Quest 66 (Sun 23 Sept):
Quest 67 (Mon 24 Sept):
Quest 68 (Tue 25 Sept):
Quest 69 (Wed 26 Sept):
Quest 70 (Thur 27 Sept):
Quest 71 (Fri 28 Sept):
Quest 72 (Sat 29 Sept):
Quest 73 (Sun 30 Sept):
Quest 74 (Mon 1 Oct):
Quest 75 (Tue 2 Oct):
Prize System
[
]
Recipes
[
]
3-star Recipes
[
]
Image
Name of Item
Prizes Possible
Chance
Cost
Apple Pie
Daily Special
Extra Large Medal Package
2 Blueprints
Boost Crate
Mass Self-Aid Kit
16%
21%
21%
21%
21%
2 Apples
1 Cinnamon
Pumpkin Apple
Cobbler
Daily Special
Premium Production Building
Production Building
50% Supply Boost
16%
14%
30%
40%
1 Apple
1 Pumpkin
1 Cinnamon
Chocolate Caramel
Cinnamon Rolls
Daily Special
Pond of Fall
Forest of Fall
5 Forge Points
4 Wishing Well Fragments
15%
23%
30%
20%
12%
1 Chocolate
1 Caramel
1 Cinnamon
Pumpkin Pie
Daily Special
20 Forge Points
10 Forge Points
5 Forge Points
15%
30%
30%
25%
2 Pumpkins
1 Cinnamon
Chocolate Cake
Daily Special
1h Mass Coin Rush
6h Mass Supply Rush
30m Mass Supply Rush
4 Shrine of Knowledge Fragments
15%
20%
15%
38%
12%
2 Chocolate
1 Caramel
2-star Recipes
[
]
Image
Name of Item
Prizes Possible
Chance
Cost
Pumpkin Caramel

Cheesecake

Daily Special
Extra Large Medal Package
Large Medal Package
Medium Medal Package
10%
30%
35%
30%
1 Caramel
1 Pumpkin
Pumpkin Apple
Muffins
Daily Special
Premium Residential Building
Residential Building
50% Coin Boost
2 Wishing Well Fragments
11%
15%
24%
34%
16%
1 Pumpkin
1 Apple
Chocolate Fudge
Brownies
Daily Special
Boost Crate
Store Building
Self-Aid Kit
2 Shrine of Knowledge Fragments
12%
32%
10%
30%
16%
1 Chocolate
1 Caramel
Chocolate Cinnamon
Bread
Daily Special
Extra Large Coin Package
Extra Large Supplies Package
25 of one good
10 Forge Points
12%
22%
22%
22%
22%
1 Chocolate
1 Cinnamon
Caramel Apples
Daily Special
Champion
Color Guard
Rogue
3 Wishing Well Fragments
10%
30%
20%
30%
10%
1 Caramel
1 Apple
1-star Recipes
[
]
Image
Name of Item
Prizes Possible
Chance
Cost
Apple Jam
Daily Special
10 Forge Points
5 Forge Points
2 Forge Points
05%
50%
25%
20%
1 Apple
Pumpkin Spice
Cookies
Daily Special
Blueprint
2 Blueprints
Wishing Well Fragment
06%
38%
40%
16%
1 Pumpkin
Snickerdoodles
Daily Special
Fast Unit
Heavy Unit
Light Unit
Ranged Unit
Artillery Unit
2 Shrine of Knowledge Fragments
07%
17%
17%
17%
17%
17%
08%
1 Cinnamon
Chocolate Chip
Cookies
Daily Special
5% Attacker Boost
10% Attacker Boost
20% Defense Boost
30% Defense Boost
06%
24%
23%
24%
23%
1 Chocolate
Caramel Bites
Daily Special
Premium Decoration
Cultural Building
2 Shrine of Knowledge Fragments
05%
22%
65%
08%
1 Caramel
Daily Special
[
]
This is the list of Daily Specials, they can be won from all recipes on the same day.
You can find a list of Daily Specials as they appeared on Beta here.
Grand Prizes
[
]
This is the list of Grand Prizes you can win by gathering 15 stars each.
You can find a list of Grand Prizes as they appeared on Beta here.
League Rewards
[
]
This is a list of the League Rewards. You will win all of the rewards of your current league at the time the event ends, in the form of a kit which will be put in your inventory. The rewards will become available after opening this kit.
New Buildings
[
]
Notes
[
]
↑

On Beta this portrait was named Toby
Other Events
[
]