The Amphitheater is the second Premium Cultural Building that is available after advancing to the Iron Age. It costs 250 Diamonds and provides 880 Happiness.
When the Amphitheater is polished, its output of happiness is doubled for 12 hours.
Efficiency

55.00 per tile.[1]
Update
In update 1.85, the graphic of the Amphitheater was updated. The steps and awnings were made more defined.
Image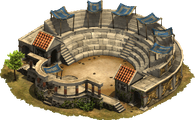 Other Cultural Buildings
↑

Efficiency is measured by the total happiness provided by the building divided by the number of tiles of the actual building occupies. To be used as an objective comparison towards other cultural buildings.
References
Community content is available under
CC-BY-SA
unless otherwise noted.