Archers are a ranged unit in the Iron Age. It is an upgraded version ranged unit to Slinger.
Compared to the Slinger, Archers gain +4 damage (a significant amount), +1 defense, and slight attack bonuses on rocks and against heavy units.
Archers have the highest attack in Iron Age and are very effective in most situations. It has a combat bonus against heavy units class such as the legionnaire. It gains an attack bonus while standing on rocks. The Archer is produced in the Archery Range.
Usage
The archer is very effective against heavy units. It is very effective even against the EMA Armored Infantry. However, the archer has a low defense so it is vulnerable to all sources of damage. Mounted Warriors have a combat bound against them. Combined with the archer's low mobility, fast units should be avoided while using archers. It is recommended to deploy archers with light units to eliminate fast units before the fast unit reach your archers. Artillery units are one of the biggest threats, as they can attack archers from across the map. It is not recommended to use archers when the opponent has many artillery units or fast units.
Archers are very effective against Soldiers and also other archers, capable of two shot killing other archers. They are however most effective against the Legionnaire.
Updates
In update of version 1.0 (4.30.2013), the attack and range have been decreased from 11 and 6 to 10 and 5.
In update of version 0.10.0.7497(6.6.2012), the training time of Archer was decreased to 2 hours.
In update of version 0.10.1.8027(5.7.2012), Archer received a terrain attack bonus of 2 on rocks.
Image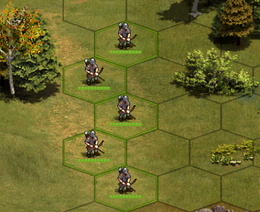 Other Military Units
Legend:

= Light Unit Class

= Heavy Unit Class

= Fast Unit Class

= Ranged Unit Class

= Artillery Unit Class
Community content is available under
CC-BY-SA
unless otherwise noted.