The Archery Range is an Iron Age Military Building. It is where a player can train Archers, a ranged unit of the age. It is the second unlocked military building of the age. In order to construct an Archery Range, a player needs to have unlocked the Archery technology.
It is highly recommended to build the Archery Range, because Archers have the highest attack in the Iron Age and are effective against all units except artillery units.
Update
In update 1.85, the graphic of the Archery Range was reworked.
Gallery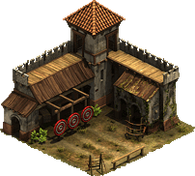 Other Military Buildings
Community content is available under
CC-BY-SA
unless otherwise noted.