The Armored Car is a Progressive Era fast unit. It is usually the second unlocked unit of the era. To produce an Armored Car, an Armored Car Factory with a 2 square-lane road next to it is required. The Armored Car retains classic fast unit strengths, being very effective against ranged units e.g. the Sniper.
It gains defense bonus when position on plains. It is vulnerable to both heavy units and artillery units.
Usage
Under Construction

Against Same Age Units
Neither of them has a clear advantage over the other, although a one-on-one combat can be easily won by Conscripts if they are in trenches or entrenchments. However, Armored Cars should focus on Snipers (to take them out quickly and easily) or Rapid Fire Cannons (to prevent major damage).
The Armored Car is possibly the strongest counter to the Sniper. It's high mobility allows it to get near a Sniper to potentially deny it's Dug-In bonus without fearing significant damage in return. Be careful if there are any Tanks guarding the Snipers.
The use of Armored Cars against Tanks should be avoided at all costs. The damage a Tank takes from an Armored Car is insignificant and a single Tank shot to an Armored Car can be devastating. Avoid any contact if possible.
If there are any Rapid Fire Cannons, they should be taken out as soon as possible. The Armored Car can use its high mobility to get near an RFC to deny it's Dug-In bonus and, if well done, the Armored Car can later focus on not-so-harmful units.
Appearance
Under Construction

History
Under Construction

Image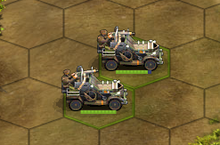 Other Military Units
Legend:

= Light Unit Class

= Heavy Unit Class

= Fast Unit Class

= Ranged Unit Class

= Artillery Unit Class
Community content is available under
CC-BY-SA
unless otherwise noted.