The Armored Infantry is an Early Middle Ages heavy unit. It is produced by the Armored Infantry Barracks.
It is an upgrade from the Legionnaire. It is efficient against light units but is very slow per turn, which makes it vulnerable to Ranged and Artillery Units due to slow movement speed and tactical bonuses.
Usage
The Armored Infantry is very effective against the Mercenary, and even against the Iron Age Legionnaire. It can also be used as a counter to Heavy Cavalry due to its high defense. It also does well even against the High Middle Ages Berserker, but it is no match for the other units in the High Middle Ages. The key with using the Armored Infantry is to allow other units to attack them first, and retaliate and attack back on the next turn.
The ranged unit of the Early Middle Ages (the Mounted Archer) cannot do as much damage on Armored Infantry compared to previous ages, due to their decreased attack damage, whilst Armored Infantry can two hit kill them, unless they are badly injured. Pairing the Armored Infantry with Heavy Cavalry can be a very deadly counter to most EMA army types, because the Heavy Cavalry can rush to take out enemy Ranged and Artillery Units, whilst the Armored Infantry takes care of melee classes.
Image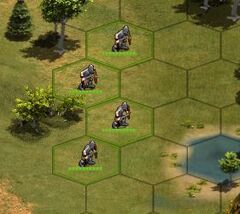 Other Military Units
Legend:

= Light Unit Class

= Heavy Unit Class

= Fast Unit Class

= Ranged Unit Class

= Artillery Unit Class
Community content is available under
CC-BY-SA
unless otherwise noted.