This article contains information about unreleased content, and may contain spoilers.
Any content presented on this page is subject to change as InnoGames
may alter game aspects prior to their official release.
Click this banner to show/hide all Spoilers on this page
The Aztec Settlement is the fourth of the Cultural settlements, released TBA. The purpose is to lead the Aztecs to prosperity.
This page explains the workings of the settlement and it's buildings, for information about the quests, embassy advancements and rewards check the Aztecs page.
Start
When starting the Aztec Settlement the player will have a city grid the size of 6 expansions (3x2), with the Aztec embassy in the top corner, and a stock of

 5000 Cocoa Beans. Take notice of the impediments on the city grid outside of the starting area - unmovable rocks that block part of the grid. These can be removed, using removal tools as far as they are available - otherwise it is necessary to build around the impediments, making it harder to arrange buildings.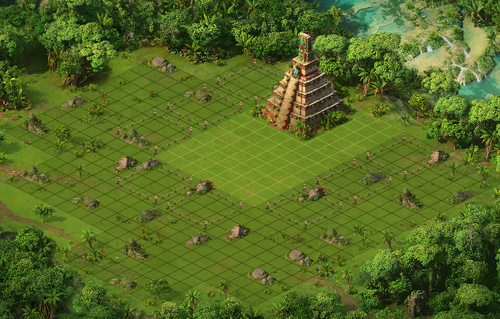 With each start of a new Cultural settlement, the impediments will be arranged differently in the city. Abandoning a settlement will not rearrange the impediments.
Additional expansions can be unlocked by either paying cultural goods or diamonds. The player can unlock a total of 17 expansions by paying cultural goods and 5 with diamonds. The total city grid can fit 30 expansions, including the first 6.
Embassy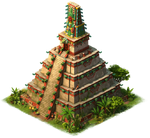 The Aztec embassy has a size of

5x5 and can be moved to another location on the grid. The embassy cannot be sold.
The Embassy produces

 600 Cocoa Beans per day.
Click on the embassy (or on the 'Develop' button) to open the Embassy Advancements window. This window shows the player's cultural goods stock at the top left. The main screen shows the embassy advancements and the costs to unlock them: the amount of cultural goods shown in the middle and on the bottom the amount of diplomacy needed. The amount of diamonds displayed to unlock an advancement depends on the amount of goods and/or diplomacy still needed. The player can choose to gain the amount of resources and diplomacy still needed, or pay the difference with diamonds.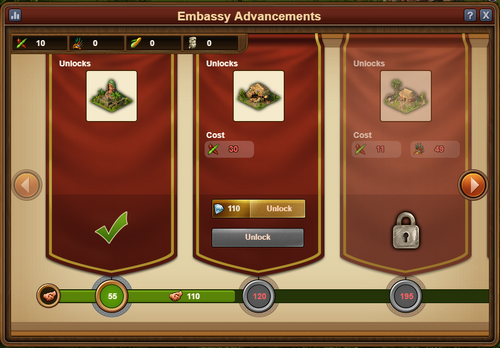 A list of all embassy advancements and their requirements can be found on the Aztecs page.
Buildings
Building Menu
The building menu consists of four types of buildings and an expansions window:
At the start of the settlement, the player will have one of each type of building available in the building menu: The Macehualtin Hut, the Vegetable Garden, the Honoring Sculpture and the Simple Path. All other buildings become available by unlocking embassy advancements.
The building cost of each settlement building depends on the player's era and consists of resources from the main city: coins and supplies.
All resources gained from the settlement, stay in the settlement. Players cannot trade cultural goods with other players.
Residential Buildings
Residential buildings provide Aztec population and Cocoa Beans. Cocoa Beans are needed for the production of cultural goods. The Macehualtin Hut has three possible designs of which the game selects one randomly upon placement of the building - the other options can be seen in the Gallery.
Beware: when finishing or abandoning a settlement, all population and Cocoa Beans in stock will be lost.
Building
Construction
Population
Production

Macehualtin Hut
[1]
[1]

2x2
Yes
30s
16
88 in 4h

Yaoteguihua Residence
[1]
[1]

3x3
Yes
1h
59
354 in 8h

Pipiltin Palace
[1]
[1]

5x3
Yes
4h
153
1793 in 24h
Cultural Goods Buildings
Cultural goods buildings provide an amount of cultural goods, from 5 to 20, depending on the chosen production time. The production is similar to goods production in the main city, but requires a resource that the player gathers in the settlement: Cocoa Beans.
Cultural goods are used for unlocking embassy advancements and expansions.
Unlike main city goods, the player cannot trade cultural goods with other players.
Beware: when finishing or abandoning a settlement, all cultural goods in stock will be lost.
Building
Construction
Production
Costs

Vegetable Garden
-36
[1]
[1]
4x3
Yes
1h
5 in 4h
10 in 8h
20 in 24h
1,000
2,000
4,000

Quetzal Aviary
-45
[1]
[1]
3x3
Yes
1h
5 in 4h
10 in 8h
20 in 24h
1,000
2,000
4,000

Maize Farm
-27
[1]
[1]
3x5
Yes
1h
5 in 4h
10 in 8h
20 in 24h
1,000
2,000
4,000

Stone Carver
-24
[1]
[1]
4x4
Yes
1h
5 in 4h
10 in 8h
20 in 24h
1,000
2,000
4,000
Production Bonus
Cultural goods buildings provide a production bonus: with each production the player has a chance of 5% to get 4x the amount of goods produced. With each finished settlement, this percentage increases by X%, until 13 settlements are finished, after which it stays at X%.
Courtyard Market
As an additional source of cultural goods, the Aztec Settlement is the first settlement to introduce the Courtyard Market. The Courtyard Market allows you to acquire cultural goods by solving a minigame. The production bonus does not apply to the minigame. Also, the goods received from the Courtyard Market are counted towards any active settlement quest that requires specific goods to be collected.
Three minigames are available per day. Each one will show you how many cultural goods you can possibly get as a reward. The amount of goods that can be won per minigame is a random amount between 9-12. For example it will say 0-12, which means there will be exactly 12 goods available to find, but you might not succeed in getting all of them with only the free turns. Each game will reward only one of the four types of goods. Which type for each game is random.
The minigame works basically like the classic game Minesweeper, but hitting the mines (hidden goods) is the goal.
You will start with a fully covered board of seven by eleven tiles (77 total) and 1 more free turn than the available amount of goods in the minigame. Clicking any of the covered tiles consumes a turn and reveals either:
a reward - which will be collected and disappears from the tile automatically, immediately after being found;
an empty tile - all 8 neighbors of an empty tile will also be revealed. Any eventual revealed empty tile will also has it's neighbours revealed. This will be repeated for all connecting empty tiles until no more empty tiles; or
a tile with a number between 1-8, indicating how many rewards are placed within their adjacent tiles (please keep in mind that these numbers will also count the rewards you have already collected).
Symbol
Description
10 turns remaining
2/12 goods collected
Covered tiles
-
Tiles showing the

number of adjacent rewards

A tile that contained a former collected reward
Finally, when you run out of turns, you will have three options:
Collect the rewards you found and quit the minigame
Double the amount of goods you found by paying a cost of 5 diamonds per collected good through "boost outcome" and quit the minigame
Buy more turns at the cost of 10 diamonds per turn to keep playing (unless you've already found all rewards).
When finishing a minigame all unused turns will expire and will not transfer to any other minigame.
Diplomacy Buildings
Diplomacy buildings provide diplomacy, some of them also produce Cocoa Beans. Diplomacy is needed to unlock embassy advancements. Although diplomacy seems similar to happiness, it has no effect on the Aztec population or on settlement productions. The Honoring Sculpture and the two Statues each have three possible designs of which the game selects one randomly upon placement of the building - the other options can be seen in the Gallery.
Beware: when finishing or abandoning a settlement, all diplomacy gained will be lost.
The buildings that produce Cocoa Beans have 6 different production options, in the following table all productions are listed.
Building
Construction

Diplomacy

Production

Honoring Sculpture
[1]
[1]

1x1
No
30s

5


Decorative Statue
[1]
[1]

1x3
Yes
1 h

30


Ornamental Statue
[1]
[1]
3x1
No
1 h

30


Sun Stone
[1]
[1]

3x3
No
1 h

126


Simple Shrine
-17
[1]
[1]
2x2
Yes
1 h

20

15 in 5 min


Texcotzingo
-51
[1]
[1]
4x3
No
1 h

120

60 in 5 min


142 in 15 min
426 in 1 h
1,136 in 4 h
1,703 in 8 h
3,406 in 24 h


Great Temple
-63
[1]
[1]
3x5
Yes
4 h

210

85 in 5 min


204 in 15 min
612 in 1 h
1,632 in 4 h
2,447 in 8 h
4,894 in 24 h
Roads
All settlement buildings except some diplomacy buildings require a road connection to the embassy.
Road
Construction

Simple Path
200

1x1
0
Expansions
To expand the settlement, the player can buy 17 expansions with cultural goods. The cost of an expansion is one of the four options shown below. Example: to place the 6th expansion the player can choose between paying

70 Vegetables, or

43 Headdresses, or

15 Maize, or

10 Stone Figures.
There are also 5 expansions that can be unlocked with diamonds. These cost

500 each.
Warning: before using diamonds, be aware that when finishing a settlement (or abandoning one), the settlement will be reset and all buildings, goods in stock, advancements and expansions will be lost, including those unlocked with diamonds.
| Expansion | Vegetables | Headdress | Maize | Stone Figures |
| --- | --- | --- | --- | --- |
| 1 | 10 | 10 | 10 | 10 |
| 2 | 15 | 10 | 10 | 10 |
| 3 | 30 | 10 | 10 | 10 |
| 4 | 43 | 15 | 10 | 10 |
| 5 | 58 | 30 | 10 | 10 |
| 6 | 70 | 43 | 15 | 10 |
| 7 | 75 | 58 | 30 | 15 |
| 8 | 80 | 70 | 43 | 30 |
| 9 | 85 | 75 | 58 | 43 |
| 10 | 89 | 80 | 70 | 58 |
| 11 | 93 | 85 | 75 | 70 |
| 12 | 98 | 89 | 80 | 75 |
| 13 | 103 | 93 | 85 | 80 |
| 14 | 108 | 98 | 89 | 85 |
| 15 | 113 | 103 | 93 | 89 |
| 16 | 118 | 108 | 98 | 93 |
| 17 | 122 | 113 | 103 | 98 |
Impediment Removal
The Aztecs are the second settlement to use the impediment removal tools. X
free removal tools can be gained from solving quests in the settlement. Additionally, 5
purchasable impediment removal tools are available per settlement using

diamonds.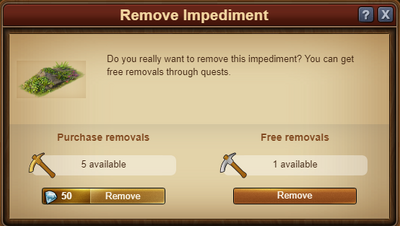 To remove an impediment, enter the build mode and select an impediment. A window will open, giving the choice of
Using a free removal tool when available,
Using a purchasable removal tool when available or
Abort the action
Gallery
See Also
Notes
Community content is available under
CC-BY-SA
unless otherwise noted.