Information
Cai Chet Nui is one of the first two provinces (the other being Rung Chien Dau) of the Postmodern Era, located at the very end of the eastern peninsula.
Welcome Text
First
Are you sick of the oppression of the masses? Do you support the revolution, too?
Second
I know you are here to kill me. Shoot, coward, you are only defeating a man - not the revolution!
Attack
You cannot kill the revolution! Someone else will pick up the fight!
Map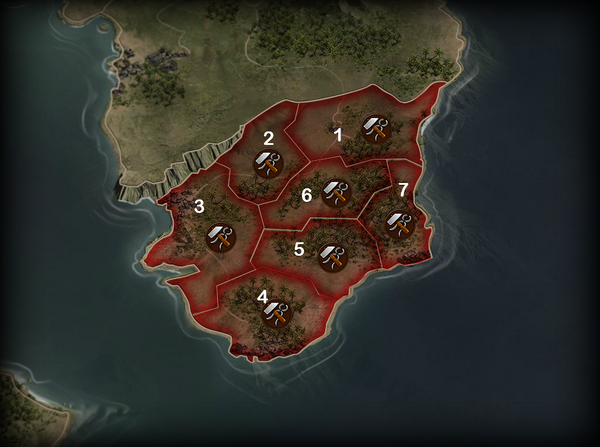 Sectors
Sector
1st Wave

Defending Army

2nd Wave

Defending Army

Negotiation Cost
Loot
1
4 Armored Car
1 Battle Tank
3 Armored Car
3 Battle Tank
25 25 25
7,500
2
3 Conscript
1 Tank
1 Mechanized Artillery
2 Conscript
1 Tank
2 Bazooka Team
1 Mechanized Artillery
25 25 25
7,500
3
4 Tank
1 Mechanized Infantry
3 Tank
3 Mechanized Infantry
25 25 25
7,500
4
2 Sniper
2 Conscript
1 Bazooka Team
2 Sniper
1 Conscript
1 Bazooka Team
2 Mechanized Infantry
25 25 25
7,500
5
2 Rapid Fire Cannon
1 Tank
1 Armored Car
1 Mechanized Infantry
3 Rapid Fire Cannon
1 Battle Tank
2 Mechanized Infantry
25 25 25
7,500
6
4 Rapid Fire Cannon
1 Mechanized Artillery
3 Tank
3 Mechanized Infantry
25 25 25
7,500
7
3 Sniper
1 Conscript
1 Mechanized Artillery
3 Sniper
3 Bazooka Team
25 25 25
7,500
Other Provinces