Description
The Cannon is the artillery unit of the Late Middle Ages. It is trained in a Cannon Camp. It has a low attack and a balanced defense value (if using dug in) while having the longest attack range among Late Middle Ages units
Compared to the Trebuchet of the previous age, it does more damage, however, it has greatly reduced range, making it slightly less effective against enemies on the other side of the map.
Usage
The Cannon is effective against Heavy Units such as the Imperial Guard. The dug in skill makes it much more effective against ranged unit/artillery unit attackers. Artillery units controlled by the computer no longer target Cannons as the first choice of attack due to the dug in feature, which helps when fighting enemy artillery units. The Cannon still takes damage against Ranged Units quite significantly, however, it isn't a total 9 hitpoints lost when hit.
It should be used to attack the Imperial Guard and Longbow Archer. Unlike previous ages, it should not be used to attack artillery units from the Late Middle Ages and up, due to the Dug In skill.
Gallery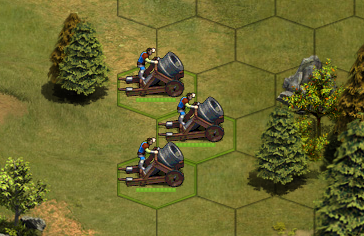 Other Military Units
Legend:

= Light Unit Class

= Heavy Unit Class

= Fast Unit Class

= Ranged Unit Class

= Artillery Unit Class
Community content is available under
CC-BY-SA
unless otherwise noted.