This article contains information about unreleased content, and may contain spoilers.
Any content presented on this page is subject to change as InnoGames
may alter game aspects prior to their official release.
The Celtic Forest Set is a building set released with the 2020 St Patrick's Day Event. From the beginning it was released with the buildings having two possible levels.
The Celtic Forest Set consist of five buildings. Each building has increased properties while placed next to other buildings from the same set. The buildings that belong to the set are identifiable by the Celtic Forest Icon (show on the right). The icon is displayed in the players inventory next to the buildings picture.
The standard layout has a size of

5x6 tiles like presented below.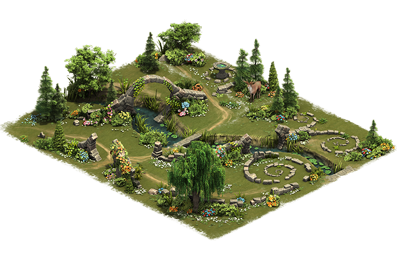 Upgraded Version
When calculating the set bonuses the level of the building is ignored. That means after upgrading one of the buildings to level 2 the other buildings still keep their set bonuses while still being level 1 buildings. Also placing two of the same buildings with different levels next to each other will not give them set bonuses.
Buildings
The Celtic Forest Set consists of five buildings. Each of the buildings can be upgraded once.
Production
Resources from the Celtic Forest Set buildings can be collected every

24 hours. Some of the buildings have passive effects and can not be collected from.
Table below shows the combined properties of a full set.
See also
Community content is available under
CC-BY-SA
unless otherwise noted.