Dear Kings and Queens,
The update to version 1.05 will be implemented on Wednesday, July 10. This
update consists mostly of bugfixing, along with some small changes and
improvements.

Meanwhile, the game developers are still hard at work preparing several major
features which we will bring to you in the very near future.

Please be aware that there will be a short period of downtime during the update,
and we apologize for any inconvenience caused by this. Please see the changelog
below for a list of changes.

May your quests be victorious, your plunders be fruitful and your guild members
loyal!

Thank you for supporting Forge of Empires.

Sincerely,
The Forge of Empires team.

Smoke across the ages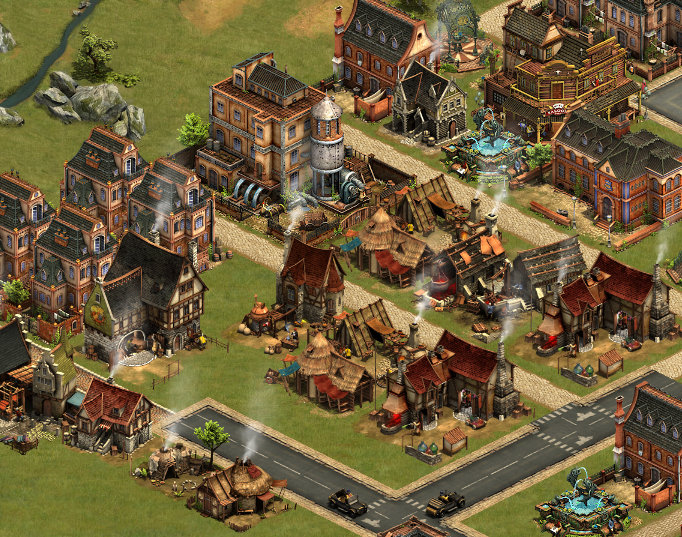 You may have seen the smoke animations in the Industrial Age, but now we're bringing it to other ages, too. As a general rule of thumb, if it has a chimney, it'll smoke! (Just make sure you have smoke enabled in your account settings). Take a close look at the picture below, we hope you like this image of what's coming soon. 
Features and changes
Some smoke Animations have been added for buildings in other eras than Industrial Age.
The message centre now displays a hint that messages are stored for only 60 days.
The activation tab is now only shown if the player's email address is not yet validated.
Bugfixes
Mail recipients did not receive new replies after the initial message was deleted from the inbox. This behaviour has now been changed.
A delay in goods being added after a trade has been fixed.
The forgotten password option did not work unless the user's email was validated first. *This has been corrected.
The current bonus given by "last stand" or "chivalry" is now displayed in the unit's tooltip
The loot reward for some provinces was incorrect. This has now been fixed.
In the trade screen, selecting "Your Needs" shows a 0 in the field from "Your Offers". This behaviour has been fixed.
The Last Stand bonus was counting for every unit. This problem has been solved.
In incorrect notification was displayed in the event history when changing a guild flag for the first time. This has been fixed.
In some circumstances the game would crash during a battle. This has now been fixed.
In the building menu, expansions always have the era of "Stone Age". This has now been corrected.
The maintainence page was not displaying correctly.
It was possible for login page menu items to spill outisde their boundaries if the word was too long. This has been fixed.
Community content is available under
CC-BY-SA
unless otherwise noted.