Important!
Please note that this information is second hand information issued by InnoGames - the game developer.
Any questions or complaints are best handled by contacting them.
Also, please note that the release date given below is for the EN servers that receive the updates first.
Hello Queens and Kings,
The update to 1.145 will take place on Wednesday, February 6. There will be a short period of downtime during the update, we apologize for any inconvenience caused during this time. For the detailed description of the changes, please see the list below:
Changes
We received feedback related to Zoom settings not being retained when returning to your city from your Cultural Outpost. With this update, we've changed the behavior so your city's zoom settings are retained!
We have added a new Victory Expansion at the cost of 950,000 medals.
Over the years, we've made some improvements to Forge of Empires overall art style. We wanted to bring some of the older Great Buildings in line with this updated style, so we've updated the look of 5 of our early Great Buildings. Check the new images out in the spoiler below:
You may remember we recently changed the way Self Aid kits work ingame, making it so you don't have to use them one at a time. Based on your feedback, we applied the same functionality to building upgrade kits, making it much easier to apply upgrades to your buildings. Now, you won't have to repeatedly open your inventory to apply them!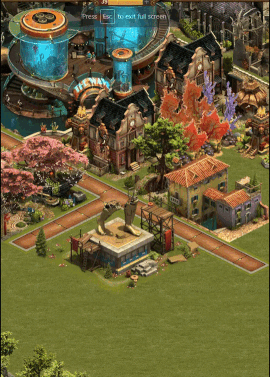 We recently added a Goods overview tooltip in the HUD towards the top left. Due to your feedback, we've changed the sorting in this new tooltip so it is consistent with the Goods in Inventory.
Bugfixes
There was an issue where the "Send" button wasn't disabled where it should be in message center (for example, when the new message field was empty). This will no longer occur.
We fixed an issue where the Difficulty window in GE was above the pop-up for a new Blueprint.
We fixed an issue where unit attack and defense icons were missing in the Guild Expedition army selection screen.
We adjusted the Supplies reward for one of the Guild Expeditions steps in Virtual Future which was incorrect.
We found some of the quest hints were incorrect for some of the Virtual Future quests, so we've adjusted them, and now the quests make sense again!
In the meantime, our development team is working on the next part of Virtual Future! Check our Beta server to be always up to date!
Thank you for playing Forge of Empires!
Sincerely, Your Forge of Empires Team
External links
Community content is available under
CC-BY-SA
unless otherwise noted.