Important: Please note that this information is second hand information issued by InnoGames - the game developer. Any questions or complaints are best handled by contacting them.
Hello Kings and Queens,
The update to 1.84 will take place on September 12, 2016. There will be a short period of downtime during the update, we apologize for this little inconvenience.
Improvements and Changes
You can now see the guild treasury history from the last 7 days. To get there, enter the guild screen and then use the burger menu in the top let corner: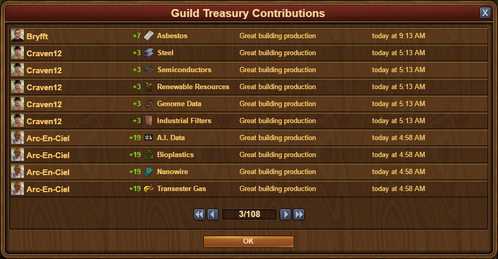 You will now get at least 1 promethium from every Arctic journey, even if the ship is completely broken and you made the worst possible crew choice.
Harbor screen was slightly polished to improve readability.
Bug Fixes
The idle icon was missing for the Harbor after the Promethium Extraction research has been finished.
Promethium collecting sound was missing. We added it now.
Bonus for reaching a new era was granted upon researching a technology and not upon opening a chest.
After creating a new guild, the guild window wasn't opening right away, making an impression that something went wrong. We worked on it and the window will now be opening up immediately.
When joining a guild, two guild windows would open instead of just one. We will not be cluttering your screen any more.
Harbor tooltip was still saying "coming soon" even though it can be now used.
Reward for obtaining a sector was granted twice and then removed once, which - while being OK mathematically - was still quite confusing. It will not be happening any more.
The balancing of Holo-Holiday Park was incorrect. The Park will now be providing a correct amount of happiness.
Description and success condition were inconsistent in one of Mandrubar's Arctic Future quests.
Original Post- https://forum.us.forgeofempires.com/index.php?threads/changelog-1-84.14593/
Community content is available under
CC-BY-SA
unless otherwise noted.