Important: Please note that this information is second hand information issued by InnoGames - the game developer. Any questions or complaints are best handled by contacting them.
Hello Kings and Queens,

The update to 1.88 will take place on Monday, November 7th, 2016

There will be a short period of downtime during the update, 
we apologize for this little inconvenience.

Improvements and Changes
Great Buildings that are available to you are now accessible directly in the building menu (this feature was previously planned to be released with the version 1.87, and will be eventually released on November 9th):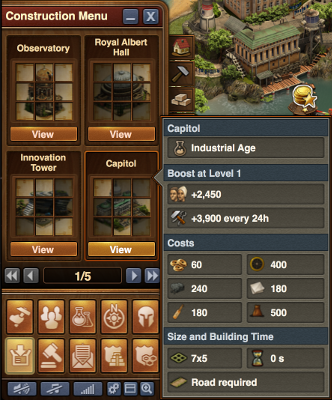 Bug Fixes
Several army-related issues were solved.
An exploit allowing an abuse in Guild Expeditions was patched.
From time to time, the game was displaying an error on placing a relic on the map. This has been solved.
Some icons in quests were incorrect.
Percentages in the Temple of Relics were a bit off (slightly up or down comparing to what's displayed). They will now reflect the reality.
Spending all available Forge Points after leaving the browser in the background for a longer time was resulting in an error. We made sure that this issue will no longer be happening.
Original Post- https://forum.us.forgeofempires.com/index.php?threads/changelog-1-88.15146/
Community content is available under
CC-BY-SA
unless otherwise noted.