Important: Please note that this information is second hand information issued by InnoGames - the game developer. Any questions or complaints are best handled by contacting them.
Hello Kings and Queens,



The update to 1.95 will take place on Wednesday, Feb 22nd, 2017.

There will be a short period of downtime during the update, 
we apologize for this little inconvenience.



Sincerely, Your Forge of Empires Team

Improvements and Changes
Over time more and more boosts were added to the game that can influence various areas of the game. (for example your coin production or your army strength). We realized that it can be hard to not lose the overview on that, so we implemented the Boost Overview! With this new page you can easily see what exactly is influencing your city and what you can do to get even more boosts!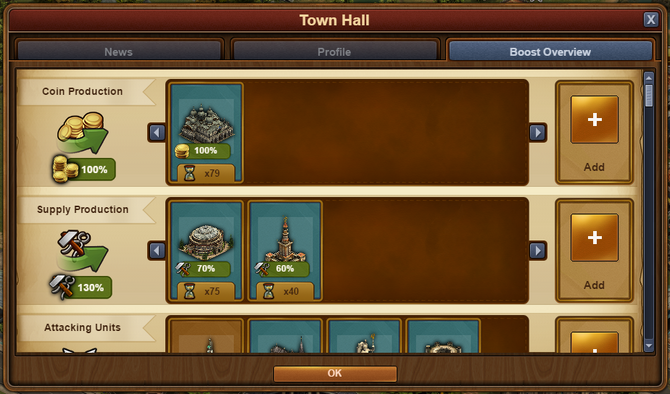 The overview of what goods you have was removed from the town hall but can still be found in your inventory.
We did some changes to guild expeditions this time and will keep an eye on your feedback on that topic.
As the Sacred Sky Watch and Tribal Square are similar to other buildings that get prioritized when using the Aid functionality, we now added these two buildings to the list. This way, also your new buildings from the Guild Expedition get prioritized.
After reviewing your feedback for changes made to guild expedition, we removed promethium from the negotiation minigame in the 3rd difficulty. You will only need to negotiate with Promethium in the 4th difficulty.
We looked at the data again after we introduced the changes to Guild Expeditions and realized that the new decorations (Face of the Ancient and Gate of the Sun God) were massively overpowered. So we've brought their values down to be "just" good.
Bug Fixes
After replaying some battles from the event history it could happen that an internal error was shown. This should no longer happen.
It was not possible to use the motivation kit for the Hall of Fame. Now you can also motivate the Hall of Fame when you want to!
We fixed some translation issues.
Original Post- https://forum.us.forgeofempires.com/index.php?threads/changelog-1-95.16649/
Community content is available under
CC-BY-SA
unless otherwise noted.