The Cherry Garden Set is a building set released with the 2017 Spring Event. The upgraded version was introduced a year later with the 2018 Spring Event.
Cherry Garden Set consist of five buildings. Each building has increased properties while placed next to another buildings from the same set. The buildings that belong to the set are identifiable by the Sakura Tree icon (show on the right). The icon is displayed in the players inventory next to the buildings picture.
The standard layout has a size of

5x5 tiles like presented below.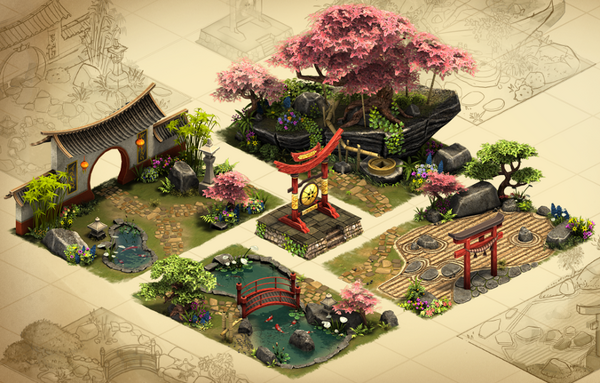 Upgraded Version
[
]
2018 Spring Event introduced the level 2 version of the Cherry Garden Set. Each of the buildings received a selection kit which allowed players to upgrade an existing building or build a new level 1 version of that building. Each building have new visuals and improved properties after the upgrade.
When calculating the set bonuses the level of the building is ignored. That means after upgrading one of the buildings to level 2 the other buildings still keep their set bonuses while still being level 1 buildings. Also placing two of the same buildings with different levels next to each other will not give them set bonuses.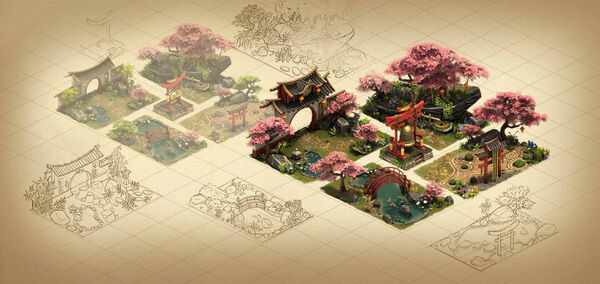 Buildings
[
]
The Cherry Garden Set consists of five buildings. Each of the buildings can be upgraded once.
Production
[
]
Resources from the Cherry Garden Set buildings can be collected every

24 hours. Some of the buildings have passive effects and can not be collected from.
Table below shows the combined properties of a full set.

Age

Happiness

Coins

Supplies

Medals

Goods

FPs

Attack Boost

Defense Boost
BA
880
612
688
6
5
(all ages)
5
(all ages)
+5%
(all ages)
+5%
(all ages)
IA
1,140
1,350
1,470
6
EMA
1,240
2,460
2,450
8
HMA
1,400
3,150
3,440
8
LMA
1,540
4,150
4,550
10
CA
1,800
6,350
5,780
12
INA
2,060
7,900
7,000
18
PE
2,240
9,600
8,230
23
ME
2,420
12,100
9,570
30
PME
2,500
15,000
10,910
43
CE
2,900
19,500
12,260
61
TE
3,560
22,500
13,770
78
FE
4,260
25,800
15,110
98
AF
4,980
29,500
16,620
114
OF
5,720
33,200
18,200
132
VF
6,820
37,160
19,670
156

Age

Happiness

Coins

Supplies

Medals

Goods

FPs

Attack Boost

Defense Boost
BA
1,500
830
530
10
10
(all ages)
7
(all ages)
+10%
(all ages)
+12%
(all ages)
IA
2,560
1,980
1,260
11
EMA
2,820
3,300
2,100
13
HMA
3,160
4,620
2,940
15
LMA
3,520
6,110
3,890
19
CA
4,140
9,300
4,940
23
INA
4,660
11,590
5,990
31
PE
5,140
14,060
7,040
40
ME
5,500
17,490
8,190
56
PME
5,720
22,000
9,350
77
CE
6,640
28,640
10,500
101
TE
8,060
33,170
11,760
126
FE
9,680
38,020
12,920
151
AF
11,260
43,200
14,180
182
OF
12,980
48,710
15,540
205
VF
15,540
54,560
16,800
233
See also
[
]