Description
The Conscript is the light unit of the Progressive Era. It is trained in a Conscription Office.
Conscript gains a defense bonus while positioned in trenches and entrenchments, while also gaining a slight attack bonus while in entrenchments.
Because of the special ability Close Quarters, the Conscript gains an attack bonus when attacking in adjacent fields.
The Conscript is excellent against the Rapid Fire Cannon and is good against the Tank. It also proves to be somewhat effective against the Armored Car as long as it is placed in trenches. However, it will stand no chance against the Sniper.
Image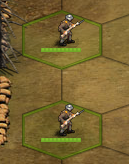 Against Same Age Units
Conscripts excel at killing Rapid Fire Cannons. Their mobility, range and bonus in trenches allows them to get near the Rapid Fire Cannons without taking significant damage. Tip: If the player infiltrates a map sector defended by Rapid Fire Cannons, it is possible to insta-kill a Rapid Fire Cannon by moving a Conscript to an adjacent field, taking advantage of Close Quarters, and attacking it.
Even match-up, as neither unit has bonuses against each other. To take advantage against Armored Cars, the player should place his/her conscripts in trenches to minimize the damage taken. Conscripts can be somewhat vulnerable to Armored Cars if they are not in a good position.
Conscripts are a strong counter to Tanks. They are not as harmful as they should be, but they can serve to Rapid Fire Cannons as meat shields, protecting them from the fire from the Tanks while the Rapid Fire Cannons damage them. Against a defense formed by Rapid Fire Cannons and Tanks, Conscripts are by far the best choice.
Snipers are by far the best counters to Conscripts. Since Sniper's massive defensive bonuses (against Light Units, in bushes/forests, Dug-In) strongly out-stand the medium-to-high damage of the Conscripts, there is nothing they can do about it. The only way a Conscript can deal considerable damage to a Sniper is attacking it from an adjacent field, taking advantage of Close Quarters, and the Sniper should be outside from a bush or a forest, otherwise, it's game over for the Conscript.
Other Military Units
Legend:

= Light Unit Class

= Heavy Unit Class

= Fast Unit Class

= Ranged Unit Class

= Artillery Unit Class
Community content is available under
CC-BY-SA
unless otherwise noted.