The Crossbowmen are a High Middle Ages ranged unit, trainable in Crossbow Range which is unlocked after having researched the Crossbow technology.
The Crossbowman is most similar to the Iron Age Archer (Mounted Archer is very different). It has the highest attack value of all High Middle Ages units, tied with the Berserker with an attack of 20. It is a big improvement over the Mounted Archer in terms of damage, although it loses a lot of speed compared to the Mounted Archer. It has a range of 5, retaining the range of ranged units from ages past.  It has a low defense of 10, making it vulnerable to all sources of damage.
Usage
The Crossbowman is very effective against most units due to its high attack value and ranged attack advantage. This makes it so that even the Knight has trouble taking it down. It is recommended to deploy it behind melee classes, by using melee classes as a shield to protect it. Heavy Infantry is an optimal choice to act as shields as it has a high defense value.
When fighting Crossbownen, your best bet would be using the Trebuchet, however due to the improved defense of the Crossbowman it can take more than 2 hits from the Trebuchet. Although it is designed to take on Heavy Infantry, the above average defense of the Heavy Infantry means that the Crossbowman has to hit the Heavy Infantry multiple times.
Image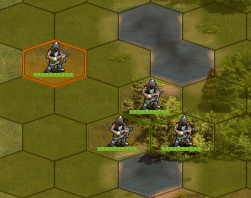 Other Military Units
Legend:

= Light Unit Class

= Heavy Unit Class

= Fast Unit Class

= Ranged Unit Class

= Artillery Unit Class
Community content is available under
CC-BY-SA
unless otherwise noted.