Information
Dunkelwald is the second province in the Early Middle Ages, accessible after taking control of Maktaba and consisting of 5 sectors. After successfully conquering all sectors, you get your first goods deposit in the Early Middle Ages.
Total loot
Narrative Text
First
I am the magnificent Freiherr v. Greifensprung. Who you are? And what do you want? Speak quickly, a banquet awaits me.
Second
How dare you! You attack my lands? Just wait, my troops will crush you! And then we are going to have a huge party to celebrate our victory.
Attack
We will celebrate your defeat!
Map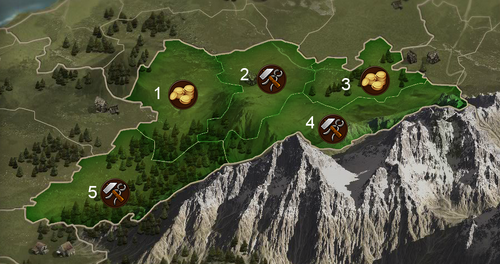 Sectors
Sector
Defending Army
Negotiation Cost
Loot
1
5 Heavy Cavalry
3 Armored Infantry
10
8
900
2
5 Mounted Archer
3 Heavy Cavalry
14
10
900
3
2 Mercenaries
2 Mounted Archer
4 Heavy Cavalry
14
10
900
4
2 Mercenaries
2 Armored Infantry
4 Catapults
14
10
900
5
5 Mercenaries
3 Catapults
14

10

900
Other Provinces
Community content is available under
CC-BY-SA
unless otherwise noted.