Emissaries are special characters that have benefits on your daily Town Hall collection once they are placed in your city.
Details
Each Emissary gives a different bonus. Emissaries give you rewards such as Forge Points, Medals, or even military units from your current era. Upon unlocking your first Emissary, you also unlock your first Emissary slot. More slots are become available as you complete more rounds of the Cultural Settlements, but you can also purchase new slots with Diamonds. However, not every new Emissary unlocked will unlock a slot.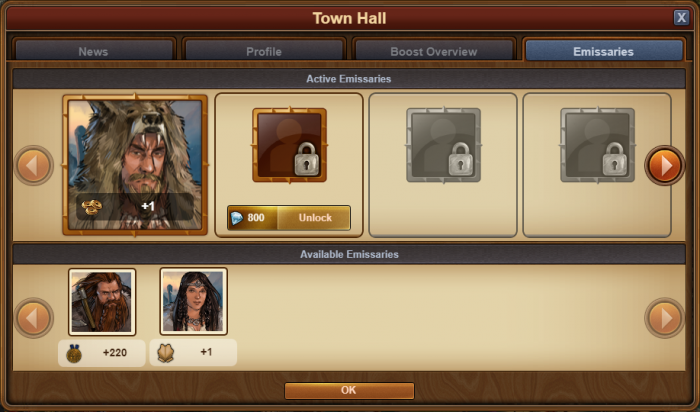 Vikings Emissaries
There are 6 Emissaries in total available in the Vikings Cultural Settlement.
| Emissary | Name | Bonus |
| --- | --- | --- |
| | Harald Hardrada | 1 Forge Point |
| | Erik the Red | Medals (Increases with Age) |
| | Leif Erikson | Supplies (Increases with Age) |
| | Freydís Eiríksdóttir | Coins (Increases with age) |
| | Gudrid Thorbjarnardóttir | 1 random Military Unit (of your current Age) |
| | Aud the Deep-Minded | 2 Goods (Of your current age) |
Japanese Emissaries
There are 4 Emissaries in total available in the Feudal Japan Cultural Settlement.
Community content is available under
CC-BY-SA
unless otherwise noted.