Work in Progress!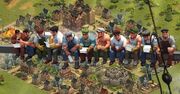 A work in progress is being carried out on this page by Sir NoVa,
and it may undergo critical changes while this message remains in place.
As a courtesy, please contact the user before making edits on this page.
This article contains information about unreleased content, and may contain spoilers.
Any content presented on this page is subject to change as InnoGames
may alter game aspects prior to their official release.
Click this banner to show/hide all Spoilers on this page
The Forge Fountain is the first Limited Building released during the 2022 Summer Event.
The Forge Fountain can only be obtained by purchasing the Summer Prizes costing

1200 Diamonds. It boosts

Forge Point collections by
+10% for the duration of 5 days. After expiring it then only provides

250 happiness and changes its appearance into an Inactive version. The boost does not apply to Town Hall production and Great Buildings producing forge points. It cannot be stored and may not be traded at the Antiques Dealer.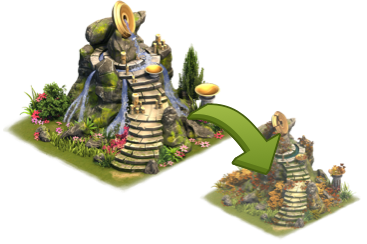 Efficiency
[
]

+62.5 per tile.[1]
Gallery
[
]
Other Special Buildings
[
]
↑

The efficiency is calculated by taking the amount of happiness generated and dividing by the size.