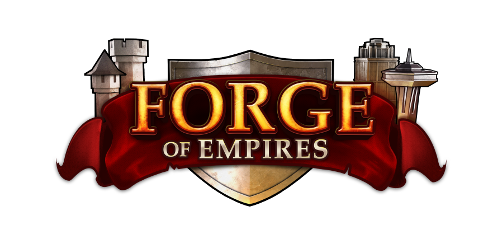 ---
Welcome to the English fan database of the Forge of Empires MMO. With 3,660 articles, 4,559 images, 116 active editors and 101,080 edits so far, you are at the largest wikia of FoE which has a near-inexhaustive wealth of information, quests, guides and an awesome community.
Forge of Empires is a browser based strategy game that lets you create your own city and accompany it from the beginning of the Stone Age onward throughout the centuries. Build structures typical of the epoch. Enlarge your sphere of influence through military campaigns and skillful dealings. With a powerful army and the right tactics, you will subjugate your enemies and forge a vast empire.
---
Universe
---
---
Latest Events
---
To learn more about the wiki and what's going on, click here.
---
Latest Media

To view photos, click here.
---
Main Administrator:

Pafton (General Stuff, Everything)
Administrators:

Shadowblack (Quests) •

Stinkypuppy (Quests, Provinces)
Content Moderators:

Devilsangel01 (New Content) •

Puer et morietur II (Events)

Please note that this Wikia is run by players and fans of the game. Neither officials nor developers from InnoGames are directly involved with this Wikia. Please click here if you wish to contact them further.
---
Featured Article
Altar Garden
InnoGames brings back the iconic FoE Soccer Cup, this time with a women's edition. Score the most amount of goals to win yourself the sweet Altar Garden. Upgrade this building to level 5 and choose whether you want the blessings of Aphrodite, Artemis, Athena, Hera, Hestia or Demeter! The goddesses provide different boosts which include...Read more
To see previous featured articles, go here.
---
Bulletin Board
Before you edit, please read the Editing Policy.
We have published our Terms of Use. Please check it out if you're considering using data from the wiki for your purposes.
All members of the Admin Team have been assigned different spheres. Please message the admin assigned to the respective sphere in case of any problems/doubts.
We're recruiting! Check out if you're the right fit here.
The Community page provides for some interesting insights.
In Insights you will find various statistics about the wiki as well as a list of missing or non-existent pages.
If you wish to undertake a project, you may do so here.
Do participate in the Poll below and check out our Featured Article. Suggestions for the same are welcome.
Message any of our Admins if you have any doubts, need help, want to chat or for any other reason.
---
Polls
Who's your favourite quest giver?
To view past polls and results, click here.
Community content is available under
CC-BY-SA
unless otherwise noted.