The Grenadier is the Heavy Unit of the Colonial Age. It is recruited in the Grenadier Barracks. It boasts moderate attacking and very high defensive stats matching those of the Dragoon. Unlike previous Heavy units, the Grenadier is the first unit of its type with the unique ability to launch ranged attacks*, albeit by a distance of 2 grids. As with preceding Heavy Units, its tactical advantages over Light Units are retained. However, the Grenadier does not retaliate from range when attacked.
Usage
Grenadiers are now very effective against units that only have a melee attack. With the attack range of 2, it can attack and not fear retaliation. However, this range increase is somewhat mitigated by the Ranger's "stealth" skill. Grenadiers still have very high defense for the age however, and even Musketeers will have some problems killing the Grenadier. The Grenadier should be used as an attack unit to kill Light and Fast Units.
Against Same Age Units
Grenadiers are somewhat effective against Dragoons. The high defense of Dragoons can limit the damage that Grenadiers do however. The ranged attack of the Grenadier helps greatly with killing Dragoons and the somewhat low attack of the Dragoon prevents Grenadiers from taking serious damage.
Grenadiers should stay away from Musketeers, because they can easily be taken out by the very long range that the Musketeer has. The increased range of the Grenadier is balanced out by the range increase of the Musketeer compared to the Ranged Unit of the previous age. Musketeers will require three or more hits to kill, and so Grenadiers should work on killing other units unless none are in range.
The Grenadier is very effective against the Ranger. The ranged attack allows Grenadiers to attack Rangers without fear of retaliation. The "stealth" ability does somewhat mitigate the usefulness of the ranged attack, however Grenadiers should still be able to do adequate damage even in close quarters combat.
The Field Gun has an attack bonus against the Grenadier. However, the low attack even with the bonus renders the Field Gun only somewhat effective against the Grenadier. Grenadiers should get to close quarters if attacking a Field Gun to mitigate the "Dug In" ability.
Gallery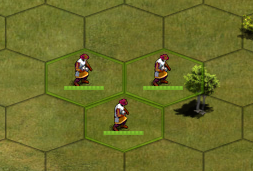 Other Military Units
Legend:

= Light Unit Class

= Heavy Unit Class

= Fast Unit Class

= Ranged Unit Class

= Artillery Unit Class
Community content is available under
CC-BY-SA
unless otherwise noted.