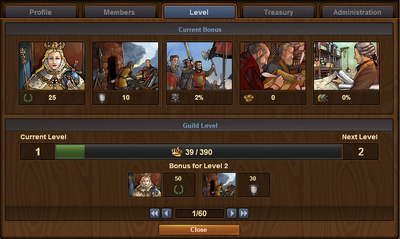 As your guild progresses in level, you get rewards that every guild member profits from.
To increase the Guild Level, the guild members needs to collect

Guild Power. When the necessary amount of guild power is collected and the progress bar is full, the guild level automatically increases by one.
Guild power can be acquired using the following means:
Participation in GE - for each lost or won Encounter in the Guild Expeditions points are contributed to the GE-points pool. When a certain threshold of points is passed, a certain amount of Guild Power is collected.
Holding Sectors in GvG - Each sector in the Guild vs. Guild (GvG) Campaign map gives a specific amount of guild power if it is held by the guild at the time of calculation.
End of Guild Battlegrounds season reward - Guild Power according to placement within a battleground.
Collecting from buildings:
All guild power collected over the day is added to the guild level progress bar upon the calculation time.
Boosts
[
]
Prestige Bonus
[
]

Sets the base amount of prestige the guild has. The total prestige a guild has is the sum of the guild's base prestige amount, the total power amounts of every held sector in GvG as of the last daily recalculation, and the guild's Battlegrounds league points (LP) multiplied by 18.
Guild Support Boost
[
]
Adds to the guild's support pool. In the Guild vs. Guild (GvG) sectors, the

military boost of your guild's armies are calculated from the support pool.
Recruitment Boost
[
]

Reduces the time needed to recruit and heal units.
Research Boost
[
]
Adds daily

Forge Points to the Town Hall.
Building Rebate
[
]
Reduces the

coin and

supply cost of all buildings.
Values
[
]
The table below diplays the

Guild Power needed to progress to the indicated level and which bonuses the town hall gives at the respective level.
| Level | | | | | | |
| --- | --- | --- | --- | --- | --- | --- |
| 1 | 60 | 25 | 10 | 2% | 0 | 0% |
| 2 | 390 | 50 | 30 | 2% | 0 | 0% |
| 3 | 1,050 | 75 | 50 | 2% | 0 | 1% |
| 4 | 2,060 | 100 | 80 | 2% | 0 | 1% |
| 5 | 3,470 | 125 | 110 | 4% | 0 | 1% |
| 6 | 5,310 | 150 | 150 | 4% | 0 | 1% |
| 7 | 7,620 | 175 | 190 | 4% | 0 | 2% |
| 8 | 10,430 | 200 | 230 | 4% | 0 | 2% |
| 9 | 13,790 | 225 | 280 | 6% | 0 | 2% |
| 10 | 17,740 | 250 | 340 | 6% | 1 | 2% |
| 11 | 22,310 | 275 | 400 | 6% | 1 | 3% |
| 12 | 27,560 | 300 | 470 | 6% | 1 | 3% |
| 13 | 33,530 | 325 | 540 | 8% | 1 | 3% |
| 14 | 40,250 | 350 | 610 | 8% | 1 | 3% |
| 15 | 47,780 | 375 | 690 | 8% | 1 | 4% |
| 16 | 56,150 | 400 | 770 | 8% | 1 | 4% |
| 17 | 65,420 | 425 | 860 | 10% | 1 | 4% |
| 18 | 75,630 | 450 | 960 | 10% | 2 | 4% |
| 19 | 86,830 | 475 | 1,060 | 10% | 2 | 5% |
| 20 | 99,050 | 500 | 1,160 | 10% | 2 | 5% |
| 21 | 112,360 | 525 | 1,270 | 12% | 2 | 5% |
| 22 | 126,800 | 550 | 1,380 | 12% | 2 | 5% |
| 23 | 142,420 | 575 | 1,500 | 12% | 2 | 6% |
| 24 | 159,260 | 600 | 1,620 | 12% | 2 | 6% |
| 25 | 177,380 | 625 | 1,750 | 14% | 2 | 6% |
| 26 | 196,820 | 650 | 1,880 | 14% | 3 | 6% |
| 27 | 217,630 | 675 | 2,020 | 14% | 3 | 7% |
| 28 | 239,870 | 700 | 2,160 | 14% | 3 | 7% |
| 29 | 263,590 | 725 | 2,310 | 16% | 3 | 7% |
| 30 | 288,820 | 750 | 2,460 | 16% | 3 | 7% |
| 31 | 315,640 | 775 | 2,620 | 16% | 3 | 8% |
| 32 | 344,080 | 800 | 2,780 | 16% | 3 | 8% |
| 33 | 374,200 | 825 | 2,940 | 18% | 3 | 8% |
| 34 | 406,050 | 850 | 3,110 | 18% | 4 | 8% |
| 35 | 439,680 | 875 | 3,290 | 18% | 4 | 9% |
| 36 | 475,150 | 900 | 3,470 | 18% | 4 | 9% |
| 37 | 512,500 | 925 | 3,660 | 20% | 4 | 9% |
| 38 | 551,790 | 950 | 3,850 | 20% | 4 | 9% |
| 39 | 593,080 | 975 | 4,040 | 20% | 4 | 10% |
| 40 | 636,410 | 1,000 | 4,240 | 20% | 4 | 10% |
| 41 | 681,840 | 1,025 | 4,440 | 22% | 4 | 10% |
| 42 | 729,430 | 1,050 | 4,650 | 22% | 5 | 10% |
| 43 | 779,220 | 1,075 | 4,870 | 22% | 5 | 11% |
| 44 | 831,270 | 1,100 | 5,090 | 22% | 5 | 11% |
| 45 | 885,640 | 1,125 | 5,310 | 24% | 5 | 11% |
| 46 | 942,380 | 1,150 | 5,540 | 24% | 5 | 11% |
| 47 | 1,001,540 | 1,175 | 5,770 | 24% | 5 | 12% |
| 48 | 1,063,180 | 1,200 | 6,010 | 24% | 5 | 12% |
| 49 | 1,127,350 | 1,225 | 6,250 | 26% | 5 | 12% |
| 50 | 1,194,120 | 1,250 | 6,500 | 26% | 6 | 12% |
| 51 | 1,263,530 | 1,275 | 6,690 | 26% | 6 | 13% |
| 52 | 1,335,640 | 1,300 | 6,800 | 26% | 6 | 13% |
| 53 | 1,410,510 | 1,325 | 7,060 | 27% | 6 | 13% |
| 54 | 1,488,190 | 1,350 | 7,230 | 27% | 6 | 13% |
| 55 | 1,568,740 | 1,375 | 7,400 | 27% | 6 | 14% |
| 56 | 1,652,210 | 1,400 | 7,550 | 27% | 6 | 14% |
| 57 | 1,738,660 | 1,425 | 7,690 | 28% | 6 | 14% |
| 58 | 1,828,160 | 1,450 | 7,830 | 28% | 7 | 14% |
| 59 | 1,920,740 | 1,475 | 7,960 | 28% | 7 | 15% |
| 60 | 2,016,480 | 1,500 | 8,090 | 28% | 7 | 15% |
| 61 | 2,115,430 | 1,525 | 8,210 | 29% | 7 | 15% |
| 62 | 2,217,640 | 1,550 | 8,320 | 29% | 7 | 15% |
| 63 | 2,323,180 | 1,575 | 8,430 | 29% | 7 | 16% |
| 64 | 2,432,090 | 1,600 | 8,540 | 29% | 7 | 16% |
| 65 | 2,544,450 | 1,625 | 8,640 | 30% | 7 | 16% |
| 66 | 2,660,300 | 1,650 | 8,740 | 30% | 8 | 16% |
| 67 | 2,779,700 | 1,675 | 8,840 | 30% | 8 | 17% |
| 68 | 2,902,720 | 1,700 | 8,930 | 30% | 8 | 17% |
| 69 | 3,029,410 | 1,725 | 9,020 | 31% | 8 | 17% |
| 70 | 3,159,820 | 1,750 | 9,110 | 31% | 8 | 17% |
| 71 | 3,294,020 | 1,775 | 9,190 | 31% | 8 | 18% |
| 72 | 3,432,070 | 1,800 | 9,270 | 31% | 8 | 18% |
| 73 | 3,574,030 | 1,825 | 9,350 | 32% | 8 | 18% |
| 74 | 3,719,940 | 1,850 | 9,430 | 32% | 9 | 18% |
| 75 | 3,869,880 | 1,875 | 9,510 | 32% | 9 | 19% |
| 76 | 4,023,910 | 1,900 | 9,580 | 32% | 9 | 19% |
| 77 | 4,182,070 | 1,925 | 9,650 | 33% | 9 | 19% |
| 78 | 4,344,430 | 1,950 | 9,720 | 33% | 9 | 19% |
| 79 | 4,511,050 | 1,975 | 9,790 | 33% | 9 | 20% |
| 80 | 4,681,990 | 2,000 | 9,850 | 33% | 9 | 20% |
| 81 | 4,857,310 | 2,025 | 9,920 | 34% | 9 | 20% |
| 82 | 5,037,070 | 2,050 | 9,980 | 34% | 10 | 20% |
| 83 | 5,221,330 | 2,075 | 10,040 | 34% | 10 | 21% |
| 84 | 5,410,150 | 2,100 | 10,110 | 34% | 10 | 21% |
| 85 | 5,603,580 | 2,125 | 10,160 | 35% | 10 | 21% |
| 86 | 5,801,700 | 2,150 | 10,220 | 35% | 10 | 21% |
| 87 | 6,004,550 | 2,175 | 10,280 | 35% | 10 | 22% |
| 88 | 6,212,210 | 2,200 | 10,340 | 35% | 10 | 22% |
| 89 | 6,424,730 | 2,225 | 10,390 | 36% | 10 | 22% |
| 90 | 6,642,170 | 2,250 | 10,440 | 36% | 11 | 22% |
| 91 | 6,864,590 | 2,275 | 10,500 | 36% | 11 | 23% |
| 92 | 7,092,050 | 2,300 | 10,550 | 36% | 11 | 23% |
| 93 | 7,324,620 | 2,325 | 10,600 | 37% | 11 | 23% |
| 94 | 7,562,360 | 2,350 | 10,650 | 37% | 11 | 23% |
| 95 | 7,805,320 | 2,375 | 10,700 | 37% | 11 | 24% |
| 96 | 8,053,570 | 2,400 | 10,750 | 37% | 11 | 24% |
| 97 | 8,307,170 | 2,425 | 10,790 | 38% | 11 | 24% |
| 98 | 8,566,180 | 2,450 | 10,840 | 38% | 12 | 24% |
| 99 | 8,830,670 | 2,475 | 10,890 | 38% | 12 | 25% |
| 100 | 9,100,690 | 2,500 | 10,930 | 38% | 12 | 25% |