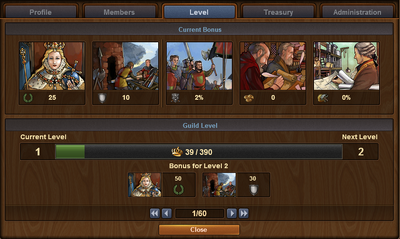 Information
As your guild progresses in its level you get rewards that every guild member profits of.
Boosts
Prestige Bonus
Adds daily prestige to the guild.
Guild Support Boost
Adds units to the guild's support pool. In the Guild versus Guild provinces, the military boost of your guild's armies are calculated from the support pool.
Recruitment Boost
Reduces the time needed to recruit and heal units.
Building Rebate
Reduces the coin and supply cost of all buildings.
Values
Level
Crowns
Prestige
Bonus
Support Pool
Boost
Recruitment
Boost
Research
Boost
Building
Rebate
1
60
25
10
2%
0
0%
2
390
50
30
2%
0
0%
3
1,050
75
50
2%
0
1%
4
2,060
100
80
2%
0
1%
5
3,470
125
110
4%
0
1%
6
5,310
150
150
4%
0
1%
7
7,620
175
190
4%
0
2%
8
10,430
200
230
4%
0
2%
9
13,790
225
280
6%
0
2%
10
17,740
250
340
6%
1
2%
11
22,310
275
400
6%
1
3%
12
27,560
300
470
6%
1
3%
13
33,530
325
540
8%
1
3%
14
40,250
350
610
8%
1
3%
15
47,780
375
690
8%
1
4%
16
56,150
400
770
8%
1
4%
17
65,420
425
860
10%
1
4%
18
75,630
450
960
10%
2
4%
19
86,830
475
1,060
10%
2
5%
20
99,050
500
1,160
10%
2
5%
21
112,360
525
1,270
12%
2
5%
22
126,800
550
1,380
12%
2
5%
23
142,420
575
1,500
12%
2
6%
24
159,260
600
1,620
12%
2
6%
25
177,380
625
1,750
14%
2
6%
26
196,820
650
1,880
14%
3
6%
27
217,630
675
2,020
14%
3
7%
28
239,870
700
2,160
14%
3
7%
29
263,590
725
2,310
16%
3
7%
30
288,820
750
2,460
16%
3
7%
31
315,640
775
2,620
16%
3
8%
32
344,080
800
2,780
16%
3
8%
33
374,200
825
2,940
18%
3
8%
34
406,050
850
3,110
18%
4
8%
35
439,680
875
3,290
18%
4
9%
36
475,150
900
3,470
18%
4
9%
37
512,500
925
3,660
20%
4
9%
38
551,790
950
3,850
20%
4
9%
39
593,080
975
4,040
20%
4
10%
40
636,410
1,000
4,240
20%
4
10%
41
681,840
1,025
4,440
22%
4
10%
42
729,430
1,050
4,650
22%
5
10%
43
779,220
1,075
4,870
22%
5
11%
44
831,270
1,100
5,090
22%
5
11%
45
885,640
1,125
5,310
24%
5
11%
46
942,380
1,150
5,540
24%
5
11%
47
1,001,540
1,175
5,770
24%
5
12%
48
1,063,180
1,200
6,010
24%
5
12%
49
1,127,350
1,225
6,250
26%
5
12%
50
1,194,120
1,250
6,500
26%
6
12%
51
1,263,530
1,275
6,690
26%
6
13%
52
1,335,640
1,300
6,800
26%
6
13%
53
1,410,510
1,325
7,060
27%
6
13%
54
1,488,190
1,350
7,230
27%
6
13%
55
1,568,740
1,375
7,400
27%
6
14%
56
1,652,210
1,400
7,550
27%
6
14%
57
1,738,660
1,425
7,690
28%
6
14%
58
1,828,160
1,450
7,830
28%
7
14%
59
1,920,740
1,475
7,960
28%
7
15%
60
2,016,480
1,500
8,090
28%
7
15%