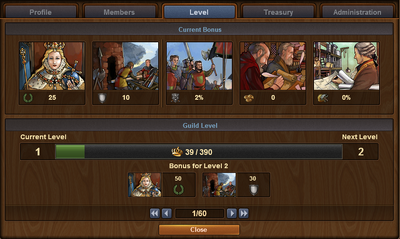 Information
As your guild progresses in level, you get rewards that every guild member profits from.
Boosts
Prestige Bonus
Adds daily prestige to the guild.
Guild Support Boost
Adds units to the guild's support pool. In the Guild vs. Guild (GvG) provinces, the military boost of your guild's armies are calculated from the support pool.
Recruitment Boost
Reduces the time needed to recruit and heal units.
Building Rebate
Reduces the coin and supply cost of all buildings.
Values
| | | | | | | |
| --- | --- | --- | --- | --- | --- | --- |
| Level | Power | Prestige Bonus | Support Pool Boost | Recruitment Boost | Research Boost | Building Rebate |
| 1 | 60 | 25 | 10 | 2% | 0 | 0% |
| 2 | 390 | 50 | 30 | 2% | 0 | 0% |
| 3 | 1,050 | 75 | 50 | 2% | 0 | 1% |
| 4 | 2,060 | 100 | 80 | 2% | 0 | 1% |
| 5 | 3,470 | 125 | 110 | 4% | 0 | 1% |
| 6 | 5,310 | 150 | 150 | 4% | 0 | 1% |
| 7 | 7,620 | 175 | 190 | 4% | 0 | 2% |
| 8 | 10,430 | 200 | 230 | 4% | 0 | 2% |
| 9 | 13,790 | 225 | 280 | 6% | 0 | 2% |
| 10 | 17,740 | 250 | 340 | 6% | 1 | 2% |
| 11 | 22,310 | 275 | 400 | 6% | 1 | 3% |
| 12 | 27,560 | 300 | 470 | 6% | 1 | 3% |
| 13 | 33,530 | 325 | 540 | 8% | 1 | 3% |
| 14 | 40,250 | 350 | 610 | 8% | 1 | 3% |
| 15 | 47,780 | 375 | 690 | 8% | 1 | 4% |
| 16 | 56,150 | 400 | 770 | 8% | 1 | 4% |
| 17 | 65,420 | 425 | 860 | 10% | 1 | 4% |
| 18 | 75,630 | 450 | 960 | 10% | 2 | 4% |
| 19 | 86,830 | 475 | 1,060 | 10% | 2 | 5% |
| 20 | 99,050 | 500 | 1,160 | 10% | 2 | 5% |
| 21 | 112,360 | 525 | 1,270 | 12% | 2 | 5% |
| 22 | 126,800 | 550 | 1,380 | 12% | 2 | 5% |
| 23 | 142,420 | 575 | 1,500 | 12% | 2 | 6% |
| 24 | 159,260 | 600 | 1,620 | 12% | 2 | 6% |
| 25 | 177,380 | 625 | 1,750 | 14% | 2 | 6% |
| 26 | 196,820 | 650 | 1,880 | 14% | 3 | 6% |
| 27 | 217,630 | 675 | 2,020 | 14% | 3 | 7% |
| 28 | 239,870 | 700 | 2,160 | 14% | 3 | 7% |
| 29 | 263,590 | 725 | 2,310 | 16% | 3 | 7% |
| 30 | 288,820 | 750 | 2,460 | 16% | 3 | 7% |
| 31 | 315,640 | 775 | 2,620 | 16% | 3 | 8% |
| 32 | 344,080 | 800 | 2,780 | 16% | 3 | 8% |
| 33 | 374,200 | 825 | 2,940 | 18% | 3 | 8% |
| 34 | 406,050 | 850 | 3,110 | 18% | 4 | 8% |
| 35 | 439,680 | 875 | 3,290 | 18% | 4 | 9% |
| 36 | 475,150 | 900 | 3,470 | 18% | 4 | 9% |
| 37 | 512,500 | 925 | 3,660 | 20% | 4 | 9% |
| 38 | 551,790 | 950 | 3,850 | 20% | 4 | 9% |
| 39 | 593,080 | 975 | 4,040 | 20% | 4 | 10% |
| 40 | 636,410 | 1,000 | 4,240 | 20% | 4 | 10% |
| 41 | 681,840 | 1,025 | 4,440 | 22% | 4 | 10% |
| 42 | 729,430 | 1,050 | 4,650 | 22% | 5 | 10% |
| 43 | 779,220 | 1,075 | 4,870 | 22% | 5 | 11% |
| 44 | 831,270 | 1,100 | 5,090 | 22% | 5 | 11% |
| 45 | 885,640 | 1,125 | 5,310 | 24% | 5 | 11% |
| 46 | 942,380 | 1,150 | 5,540 | 24% | 5 | 11% |
| 47 | 1,001,540 | 1,175 | 5,770 | 24% | 5 | 12% |
| 48 | 1,063,180 | 1,200 | 6,010 | 24% | 5 | 12% |
| 49 | 1,127,350 | 1,225 | 6,250 | 26% | 5 | 12% |
| 50 | 1,194,120 | 1,250 | 6,500 | 26% | 6 | 12% |
| 51 | 1,263,530 | 1,275 | 6,690 | 26% | 6 | 13% |
| 52 | 1,335,640 | 1,300 | 6,800 | 26% | 6 | 13% |
| 53 | 1,410,510 | 1,325 | 7,060 | 27% | 6 | 13% |
| 54 | 1,488,190 | 1,350 | 7,230 | 27% | 6 | 13% |
| 55 | 1,568,740 | 1,375 | 7,400 | 27% | 6 | 14% |
| 56 | 1,652,210 | 1,400 | 7,550 | 27% | 6 | 14% |
| 57 | 1,738,660 | 1,425 | 7,690 | 28% | 6 | 14% |
| 58 | 1,828,160 | 1,450 | 7,830 | 28% | 7 | 14% |
| 59 | 1,920,740 | 1,475 | 7,960 | 28% | 7 | 15% |
| 60 | 2,016,480 | 1,500 | 8,090 | 28% | 7 | 15% |
| 61 | 2,115,430 | 1,525 | 8,210 | 29% | 7 | 15% |
| 62 | 2,217,640 | 1,550 | 8,320 | 29% | 7 | 15% |
| 63 | 2,323,180 | 1,575 | 8,430 | 29% | 7 | 16% |
| 64 | 2,432,090 | 1,600 | 8,540 | 29% | 7 | 16% |
| 65 | 2,544,450 | 1,625 | 8,640 | 30% | 7 | 16% |