The Heavy Cavalry is the fast unit the Early Middle Ages. It is trained in the Heavy Cavalry Stable. The Heavy Cavalry now has as much defense as the Mercenary, the light unit of the age.
Usage
The heavy cavalry should be used to take out Mounted Archers and Catapults, like previous ages, and should avoid combat with Mercenaries, as they have bonuses against them and Armored Infantry, due to their strong defense, but Heavy Cavalry can gang up on Armored Infantry, and do good damage against them.
The Ranged Unit of EMA (the Mounted Archer) now has equal movement speed with the Heavy Cavalry, but with added range as well, and also being able to strike them on the first turn, before Heavy Cavalry can hit back, meaning that the old tradition of fast units rushing in to take out ranged units is lost, but because of the under-average attack and defense of Mounted Archers in EMA and the bonuses Heavy Cavalry have against Ranged classes, Heavy Cavalry now show clear strength against them. When fighting entire waves of Mounted Archers, Heavy Cavalry will probably be the best option to take them out, because using Artillery will put them at risk of being hit at the first turn, greatly reducing their attack power afterwards.
History
When the stirrup was invented, it made cavalry much more important, because with stirrups, cavalry was much harder to knock down and thus had much more durability.
Gallery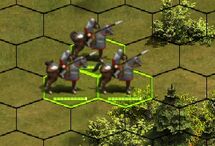 Other Military Units
Legend:

= Light Unit Class

= Heavy Unit Class

= Fast Unit Class

= Ranged Unit Class

= Artillery Unit Class
Community content is available under
CC-BY-SA
unless otherwise noted.