The Heavy Infantry is a heavy unit (

) of the High Middle Ages and is unlocked after Heavy Armor is unlocked and a Heavy Infantry Barracks is built.
The Heavy Infantry has the highest defense of all units in the HMA. Continuing the heavy unit trend of past ages, it has a defense and attack multiplier against light units as well as having a defense bonus on plains. It does very well against the Berserker and the Knight, and also has adequate defense even against the Crossbowman. It gains one more movement point compared to the Armored Infantry, so now it has the same movement speed as the Crossbowman.
The Heavy Infantry is best used as a defense for artillery and ranged units. Due to its slow speed and limited melee attack, it is not particularly effective in attacking. However, due to its improved movement speed, it can serve as an attacker when needed.
Image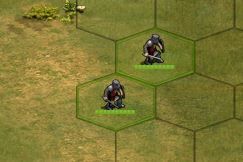 Other Military Units
Legend:

= Light Unit Class

= Heavy Unit Class

= Fast Unit Class

= Ranged Unit Class

= Artillery Unit Class
Community content is available under
CC-BY-SA
unless otherwise noted.