Information
The Horseman is the very first fast unit in the game. They have the highest speed and highest attack in Bronze Age while having a moderate defense. They don't have any terrain bonuses. Effective against Ranged Unit Class, can 2 hit kill a Slinger.
Usage
The Horseman is vulnerable to light units class because light units have a bonus against fast units. It is always the first unit to move and are able to reach the other end of the map in 2 turns, thus making it very useful to counter both ranged units and artillery units. However, it cannot pass though water or rocks. It can be used as a decoy to distract enemies by moving to another corner of the map that is away from the main army.
It is very weak against the Spearfighter which is the most commonly encountered unit in the Bronze Age, therefore the Horseman is much less useful in this age compared to fast units of other eras.
However, it can be used as a sacrifice unit by rushing into the enemy and hitting a slinger so that it does almost no damage in the next turn.
History
In the Bronze Age, humans learned to domesticate then ride horses, creating a new type of unit, Cavalry, at first , they were not useful for riding, so they used them to carry objects or as Chariots, but soon people created breeds suitable to ride, and were the shock force of their day
Appearance
The horseman has a leather and bronze helmet, a leather tunic, and a bronze spear, he does not appear to have stirrups (which is historically correct since the stirrup came was introduced to Europe by the Huns or possibly the Parthians), and he has a brown horse
Image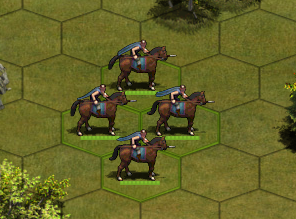 Other Military Units
Legend:

= Light Unit Class

= Heavy Unit Class

= Fast Unit Class

= Ranged Unit Class

= Artillery Unit Class