The Indian Fountain Set is a building set released with the 2017 Summer Event together with the Indian Palace Set.
Indian Fountain Set consists of five buildings. Each building gains set bonuses while placed next to another buildings from the same set. The buildings that belong to the set are identifiable by the Elephant icon (shown on the right). The icon is displayed in the players inventory next to the buildings picture.
The standard layout has a size of

6x4 tiles like presented below.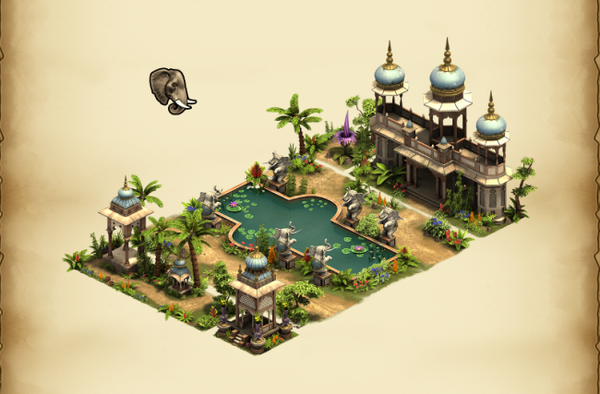 Buildings
[
]
Production
[
]
Resources from the Indian Fountain Set buildings can be collected every

24 hours. Some of the buildings have passive effects and can not be collected from.
Table below shows the combined properties of a full set.

Age

Happiness

Coins

Medals

Coin
boost

Supply
boost

Defense
boost

Attack
boost

FPs
BA
1,390
410
1
8%
8%
3%
2%
1
(all ages)
IA
1,630
990
1
EMA
1,990
1,640
1
HMA
2,200
2,290
2
9%
9%
4%
3%
LMA
2,450
3,040
3
CA
2,900
4,620
5
INA
3,240
5,760
7
10%
10%
5%
4%
PE
3,580
6,980
10
ME
3,800
8,730
13
11%
11%
6%
5%
PME
3,980
10,930
18
CE
4,630
14,240
23
12%
12%
7%
6%
TE
5,620
16,480
30
FE
6,750
18,890
35
13%
13%
8%
7%
AF
7,840
21,470
40
OF
9,060
24,210
47
14%
14%
9%
8%
VF
10,830
27,120
53
See also
[
]