The Jaeger Infantry is the light unit of the Industrial Age. It has moderate damage and high defense, and is recruited in the Jaeger Encampment. It is worth noting that it actually loses -7 attack from the light unit of the previous age, the Ranger. This is compensated by the ability to attack from range. The Jaeger Infantry is able to hide in forests, which makes it immune to ranged attacks. It receives additional defense in bushes and forests. However, it cannot hide against the blast skill of the howitzer, the heavy unit of the age.
This is the last light unit to continue the "classic" bonuses against fast units and weaknesses against heavy units. The next age, the Progressive Era, changes combat roles significantly.
Usage
The Jaeger Infantry is effective against almost everything if hidden in forests. The range increase allows it to attack at distance without being retaliated against. If the player uses 8 Jaeger Infantry and hides all of them in forests, Riflemen, Musketeers, Breech Loaders, and all other ranged and artillery units with the exception of howitzers, will attempt to attack at close quarters and they will fall easily. Jaegers should be used against armies with a lot of artillery and fast units.
Against Same Age Units
The Jaeger Infantry is meant to counter large groups of Lancers and thanks to their new ranged attack they are even more effective against fast units in general than previous age Light Units. Even considering Lancers don't have ranged attack, it's still advisable to place Jaegers in forests for extra defense.
As long as Jaegers are hidden in forests, they have the upper hand. Be careful with terrains with little forests as Riflemen can be very harmful.
The usage of Jaegers against Howitzers should be avoided. Thanks to Howitzers' Blast ability and great attack and defense bonus against Light Units, they ignore the Stealth Ability and they are also able to deal even more damage the closer they get to their targets. On the other hand, the damage Jaegers do to Howitzers is negligible.
Thanks to Stealth ability, Breech Loader is nearly useless against Jaegers. Even without forests Jaegers can kill Breech Loaders without receiving significant damage in return. Jaegers are the best options against Breech Loaders. Be careful if there are any Howitzers guarding the Breech Loaders. 
Image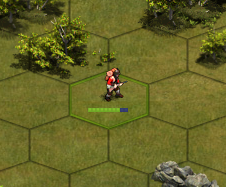 Other Military Units
Legend:

= Light Unit Class

= Heavy Unit Class

= Fast Unit Class

= Ranged Unit Class

= Artillery Unit Class
Community content is available under
CC-BY-SA
unless otherwise noted.