The Legionnaire is an Iron Age heavy unit. It is produced in the Legionnaire Barracks.
Compared to the Warrior of the previous age, the Legionnaire gains +2 attack, +3 defense, and gains attack and defense bonuses against light units and on plains.
It has the highest defense among the Iron Age units but has subpar attack power and slow speed. It has a defense bonus on plains and a combat bonus against light units.
Usage
Legionnaires are effective against both the Soldier and the Mounted Warrior, but are vulnerable to the Ballista and Archer, as both have a combat bonus against Legionnaires. Due to its slow speed, it is usually killed without doing any damage when encountering an army with several ranged units and artillery units. Therefore, legionnaires should be used to counter melee oriented armies, where their high defense can allow them to tank hits.
Image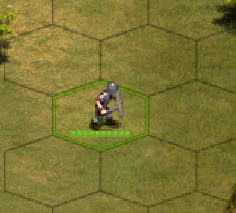 Other Military Units
Legend:

= Light Unit Class

= Heavy Unit Class

= Fast Unit Class

= Ranged Unit Class

= Artillery Unit Class
Community content is available under
CC-BY-SA
unless otherwise noted.