The Legionnaire Barracks is an Iron Age Military Building. It is where a player can train Legionnaires, a heavy unit of the age. It is the fourth unlocked military building of the age. In order to construct the Legionnaire Barracks, a player needs to have researched the Chain of Command technology.
It is highly recommended to build the Legionnaire Barracks, as Legionnaires are very useful against the Soldier, a common unit of the Iron Age.
More information can be found on the Legionnaire page.
Updates
In update 1.85, the graphic of the Legionnaire Barracks was reworked.
Gallery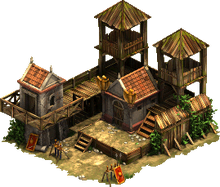 Other Military Buildings
Community content is available under
CC-BY-SA
unless otherwise noted.