The Longbow Archer is the ranged unit of the Late Middle Ages. It is trained in the Longbow Archer Range. It has a range of 6, which is 1 more than the Crossbowman and has a slightly higher attack and defense than the crossbowman. Longbow Archers gain an Attack and Defense bonus against all Heavy Units (7 and 7), as well as when standing in Rocks (4).
Usage
The Longbow Archer is best used against Heavy Infantry and the Imperial Guard, if the opponent doesn't have a lot of artillery or fast units. It is weak against fast, light, and artillery units. Try and avoid these units, because they do significant damage to Longbow Archers, and will end your fight quickly. Longbow Archers are very commonly used and should be immediately recruited after researching the tech Longbows.
Updates
The Attack Range of the Longbow Archer was reduced from 7 to 6 in the 1.0 update of the game.
Gallery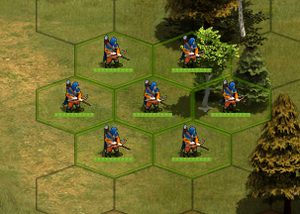 Other Military Units
Legend:

= Light Unit Class

= Heavy Unit Class

= Fast Unit Class

= Ranged Unit Class

= Artillery Unit Class
Community content is available under
CC-BY-SA
unless otherwise noted.