Mau Mat Dat is the 8th province of the Postmodern Era, accessible after taking over Giai Cuu Binh Minh.
Narrative
First
You're still there? Now what do you want again? Speak, fast!
Second
Mau Mat Dat will be the grave for your men. Just keep on sending them... I will finish them all!
Attack
You are miserable! You are worthless! You will die here!
Map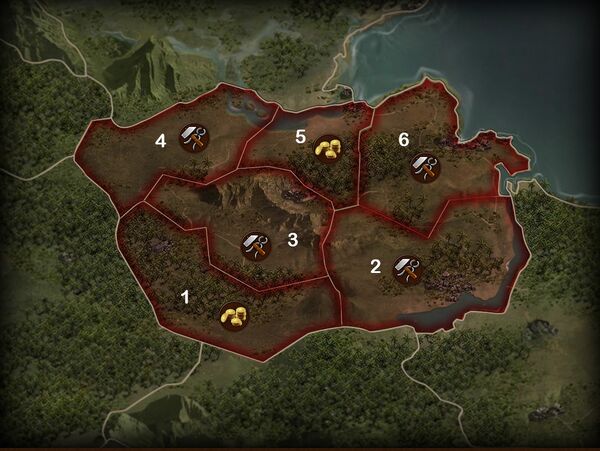 Sectors
Sector
1st Wave

Defending Army

2nd Wave

Defending Army

Negotiation Cost
Loot
1
2 Rapid Fire Cannon
3 Mechanized Infantry
1 Rocket Artillery
2 Conscript
2 Paratrooper
2 Mechanized Infantry
2 Universal Tank
40
20
40
20
11,000
2
2 Conscript
2 Paratrooper
1 Bazooka Team
1 MG Team
2 Armored Car
4 Battle Tank
2 Missile Artillery
40
40
20
20
11,000
3
2 Tank
1 Battle Tank
2 Mechanized Infantry
1 Rocket Artillery
2 Armored Car
2 Paratrooper
2 Mechanized Artillery
2 Universal Tank
20
40
20
40
11,000
4
1 Armored Car
1 Conscript
2 Mechanized Infantry
1 Battle Tank
1 Commando
1 Armored Car
1 Sniper
2 Battle Tank
2 Mechanized Infantry
1 MG Team
1 Universal Tank
20
40
40
20
11,000
5
2 Sniper
2 Paratrooper
1 Bazooka Team
1 IFV
2 Conscript
1 Paratrooper
1 Bazooka Team
2 Battle Tank
2 IFV
20
40
40
20
11,000
6
2 Conscript
1 Bazooka Team
2 Mechanized Artillery
1 MG Team
2 Conscript
2 Bazooka Team
2 Paratrooper
2 Commando
40
20
20
40
11,000
Other Provinces