The Mechanized Artillery is the artillery unit of the Modern Era.
To train the units a Mechanized Artillery Factory is needed.
This is the first artillery unit in the game that has more defense values than attack values. It upgrades the Rapid Fire Cannon by 9 points of attack and by 23 defense ponts, only 1 range point, 3 bonus points when firing from hills and a great upgrade of 6 points of movement.
It's movement speed makes it very maneuverable. However, it obtains all the previous mentioned upgrades at the cost of losing the "Dug-In" bonus and 5 points of attack and defense against Fast and Heavy units.
The Mechanized Artillery is a problem for the Battle Tank and the Mechanized Infantry, especially when the terrain helps and prevents them to advance faster. It's weakness are the Paratrooper and the Bazooka Team, altough the latter will take very long to reach the Mechanized Artillery.
Gallery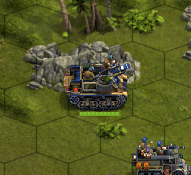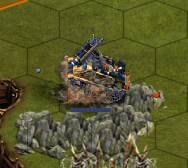 Other Military Units
Legend:

= Light Unit Class

= Heavy Unit Class

= Fast Unit Class

= Ranged Unit Class

= Artillery Unit Class
Community content is available under
CC-BY-SA
unless otherwise noted.