The Mechanized Artillery is the artillery unit of the Modern Era. To train them, a Mechanized Artillery Factory is needed.
It upgrades the Rapid Fire Cannon by 9 points of attack and by 23 defense ponts, 1 range point, 3 bonus points when firing from hills and a great upgrade of 6 points of movement. However, it obtains all the previous mentioned upgrades at the cost of losing the "Dug-In" bonus and 5 points of attack and defense against Fast and Heavy units.
The Mechanized Artillery, with its rather fast movement and long range, can now hit opposing units on the first turn in the 1.5:1 Battlefield, making it rather manoeuvrable and strong, however, it still remains a weak unit due to its substandard attack and defense, meaning it should be supported by other units in order to be most effective.
Against Same Age Units
[
]
In theory, the Mechanized Artillery should be strong against the Mechanized Infantry, but given their weak attack and defense even with their bonuses and the good movement and range of the Mechanized Infantry, they are about on even terms with each other. If the terrain between them is rough however, the Mechanized Artillery will have a good advantage.
Unlike previous ages where heavy units were slow, the Battle Tank is significantly stronger in terms of movement and range. However, the Battle Tank does have a lower attack than the Mechanized Infantry, so they will not cause too much damage if you have a good defense boost. Similarly, in rough terrain, the Mechanized Artillery will still be strong.
The Mechanized Artillery is extremely weak against the Paratrooper, because of the massive bonuses to start off with, as well as the Stealth ability to become immune from their ranged attacks, but mostly because of their new ability called Rapid Deployment, which allows them to spawn halfway across the map and possibly hit them on the first turn. Avoid using Mechanized Artillery in presence of Paratroopers.
In theory, the Mechanized Artillery are weak against the Bazooka Team, but given the fact that the Bazooka Team has the lowest movement and range in the Modern Era, they are not too much of a problem for the Mechanized Artillery. However, the Mechanized Artillery are near useless against the Bazooka Team given their bonuses of 25 and if they are unlucky enough, if they get hit by the Bazooka Team, they will be almost dead.
Gallery
[
]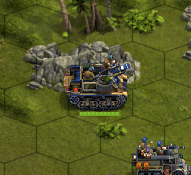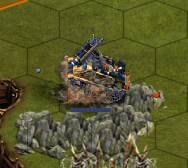 Other Military Units
[
]
Legend:

= Light Unit Class

= Ranged Unit Class

= Artillery Unit Class

= Heavy Unit Class

= Fast Unit Class