The first unlocked unit (with Mechanized Artillery) of Modern Era. To train Mechanized Infantry, an Mechanized Infantry Barracks with a 2 square-wide road next to it is required.
The Mechanized Infantry is the unit with the highest standard statistics in Modern Era. Being balanced both in attack and defense, counting with 60 points in each aspect.
It's bonus against Ranged Units improves by 5 points and it gains an extra bonus of 10 attack and defense points against Light Units. However, it's speed and defense bonus in plains are slightly decreased.
The Mechanized Infantry is effective against the Paratrooper and the Bazooka Team. However, it has difficulties against Mechanized Artillery and it's highly vulnerable against the Battle Tank.
Gallery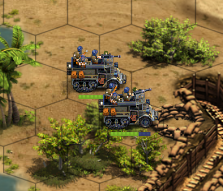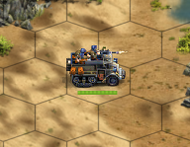 Other Military Units
Legend:

= Light Unit Class

= Heavy Unit Class

= Fast Unit Class

= Ranged Unit Class

= Artillery Unit Class
Community content is available under
CC-BY-SA
unless otherwise noted.