The Mercenary is the second unlocked unit in Early Middle Ages. It is trainable in Mercenary Barracks (3x3) after having researched the Mercenaries technology. Just like its predecessor, the Soldier, it has a balanced attack and defense value, an attack bonus of 5 against Heavy Cavalry (fast) unit, a defense bonus of 3 in bushes and 5 in forests. Bronze age units are almost no match for them.
The Mercenary is not the first unlocked military unit in Early Middle Ages.
Usage
Mercenaries are a balanced unit of the age. They are good against any other unit except Armored Infantry, which has a defense and attack bonus against them.
They can be used to attack Mounted Archers, which have low attack for a ranged unit in the EMA, and two hit them. The AI or computer usually sends Mounted Archers to the player's side of the map right at the beginning of the battle, allowing the Mercenary to attack it.
They also can be used for attacking Heavy Cavalry, especially since they have an attack bonus against them. They also have a defense bonus against Heavy Cavalry, meaning that it would take 3 hits or more for Heavy Cavalry to kill a Mercenary in a forest.
They also can withstand Catapults, the same age artillery unit, however, it is recommended to have the Mercenary in cover, to minimize the chances of the Catapult of doing three hitpoints of damage to the Mercenary. Even with one hitpoint, Mercenaries can two hit kill a Catapult, and even one hit them if the sector has been infiltrated.
Trivia
When a Mercenary is eliminated, his own spear will fly into the air and as soon as the Mercenary collapses onto the ground, the spear goes head first and stabs its own user to end his misery.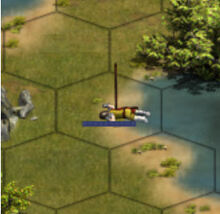 History
Despite the age, mercenaries have always been present throughout the ages, often being considered one of the oldest professions in the world. From local gangs of free lances to uniformized mercenary companies, taking part in conflict for personal profit has always been atractive and lucrative, and making more profit meant being structuralized. The quality and capability of mercenary groups was often reflected by their price, which also reflected their professionalism. Especially during the Middle Ages, mercenaries were often better equipped and better trained than feudal levies, severely augmenting the fighting capability of those who could afford their services, however, these could easily be bribed by the enemy and betray those who hired them originally, thus they could not be relied upon for too long. European mercenaries sprawled from all the corners of the continent: Routiers from France, the Condottieri from Italy, Reisläufer from Switzerland, the latter Landknechts from the German territories and many other Free Companies. Generally, depending from company to company, mercenaries did not carry any standardized equipment, but they often fought with the latest tactics and equipment, including early firearms, polearms and body armour. Maintaining mercenaries was often expensive and only the richest city-states could afford their services for the duration of a conflict.
Image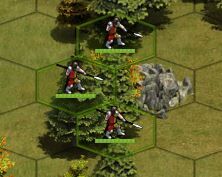 Other Military Units
Legend:

= Light Unit Class

= Heavy Unit Class

= Fast Unit Class

= Ranged Unit Class

= Artillery Unit Class
Community content is available under
CC-BY-SA
unless otherwise noted.