The Mounted Archer is a ranged unit of the Early Middle Ages with the same speed as fast units. Although it has the same range and lower attack than Archers, it also has higher defense. It is effective against heavy units with both an attack and defense bonus against them.
Usage
Although Mounted Archers look like a fast unit, it is a ranged unit, and can therefore maneuver over rocks, where it has an attack bonus. It is vulnerable to fast units due to the class combat bonus against ranged units.
The tactic of using a Mounted Archer is quite different from other units as it combines the class advantage of both the ranged unit and fast unit. Deploying the Mounted Archer with fast units is ideal as both can charge enemies in a swift attack.
Though it is technically a ranged unit, it has unofficial attack bonuses against Artillery because it is often able to attack Artillery on the first turn. It is able to terrorize artillery units even up to LMA.
A combination of 8 Mounted Archers can also be an effective defense strategy. This strategy is easy to defeat, but it is almost impossible to have an unbeatable defense. The idea is to annoy and deter, and Mounted Archers are one of the most annoying units to deal with.
Image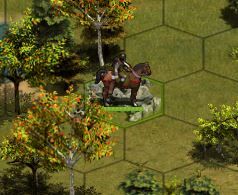 Other Military Units
Legend:

= Light Unit Class

= Heavy Unit Class

= Fast Unit Class

= Ranged Unit Class

= Artillery Unit Class
Community content is available under
CC-BY-SA
unless otherwise noted.