The Paratrooper is the ranged unit of the Modern Era with a moderate attack and defense, moderately high speed and short range. To train this unit, a Paratrooper Camp is needed.
Comparing it to the Sniper, it's attack and defense are upgraded by 18 points, range is reduced from 12 to 9 and movement stays the same. It's bonus against Light Units is halved, but it compensates this with additional 40 attack and defense points against Artillery. It keeps their 20 and 40 defensive points in bushes and forests respectively.
The attack bonus on rocks that the Sniper lost is recovered, this time, with 25 extra points. It also gains the same attack points when standing in entrenchments.
It loses the Dug-In bonus, but it's now able to hide in forest and it obtains the brand new Rapid Deployment bonus, which allows it to land in a random field of the battlefield and to be the first unit to act.
The Paratrooper is a huge threat to the Bazooka Team and the Mechanized Artillery. However, no matter how much it hides in forests, it's very weak to the Battle Tank and the Mechanized Infantry.
Gallery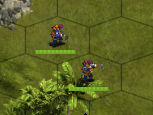 Other Military Units
Legend:

= Light Unit Class

= Heavy Unit Class

= Fast Unit Class

= Ranged Unit Class

= Artillery Unit Class
Community content is available under
CC-BY-SA
unless otherwise noted.