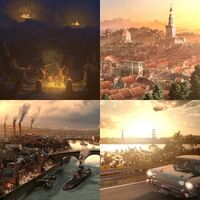 Quests are objectives players complete by producing certain goods, achieving certain conditions, perform certain tasks, etc. The rewards can consist of coins, supplies, goods, military units, forge point packages, blueprints and sometimes diamonds.
Story quests provide an overarching plot for an entire era. Side quests and recurring quests may be given by non-player-characters, depending on progress in the tech tree or on the continent map. There are sometimes event quests that when completing entire chain provide a special item.
Quests can be separated into six different categories, all of them are provided by non-player quest givers.
Story Quests
[
]
Main article: Story Quests
Story quests provide an overarching plot for an entire era. Those quests contain a lot of tasks that require advancing on the campaign map. Story quests can not be aborted.
Side Quests
[
]
Main article: Side Quests
Side quests are unlocked in Bronze Age. New side quests are triggered by completing story quests, researching technologies, constructing specific buildings, scouting and conquering provinces. If the player completes or aborts all available side quests, recurring quests will take place until the requirements for new side quests are fulfilled.
Recurring Quests
[
]
Main article: Recurring Quests
Recurring quests require the player to collect some resources, gain units, or do other tasks to gain rewards. Completing them gives one random reward. Diamonds can be earned through recurring quests, but only once for each quest. 
To unlock recurring quests, the player must complete or skip all available side quests that are in queue. At any point of the game there are certain set of recurring quests. Those can be aborted and therefore cycled through if the player chooses. They keep going in a loop until an in-game action unlocks more side quests.
Bonus Quests
[
]
Main Article: Bonus Quests
There are three sets of bonus quests, belonging to the Early Middle Ages, Late Middle Ages, and Industrial Age. They are unlocked upon scouting one of the bonus provinces of each of these eras. Like story quests, they cannot be aborted.
Upon completion of the bonus questline, their "slot" will remain, and is utilised for side quests. Thus, the player can have two side quests concurrently.
Event Quests
[
]
Event quests are temporary tasks available with each event. Players can complete those until the event ends. After that those quests become unavailable and new ones will be provided with the next event.
Completing event quests is a necessary mean to get the most out of the event since they provide useful event resources and milestone rewards to receive special prices provided in the event.
Daily Challenges
[
]
Main article: Daily Challenges
Daily Challenges provide players with a new quest every day. Each day players can choose between two different reward chests and get certain amount of tasks which will reward the chosen chest upon completing. After completing seven Daily Challenges players are rewarded with additional Challenger's Chest.
Daily quests are unlocked by researching Millitia in the Iron Age
Quests Through the Ages
[
]
Age
Date Announced
Inno forum posts
Story Quests
Side Quests
Recurring Quests
SA
BA
IA
EMA
HMA
LMA
62 bonus

with CA

CA
Oct 8, 2012
0.18
54
70
INA
Mar 6, 2013
IA in Arvahall
75
64
11
PE
Jul 18, 2013
PE
57
67
11
ME
Jan 2, 2014
1.17 and ME
96
56
11
PME
May 23, 2014
1.27 and PME
up to 54
55
11
CE
Oct 10, 2014
1.37
up to 66
64
11
TE
Apr 10, 2015 (Apr 10)
1.49 and TE
71
58
11
FE
Nov 1, 2015 (Oct 15)
FE
"many" ?
60
?
AF
May 22, 2016 (May 11)

Aug 24, 2016 (Aug 10)

Oct 7, 2016 (Sep 28)

Dec 6, 2016 (Nov 14)

AF part 1
37 +

33 +

41 +

39 =

150

15 +

15 +

10 +

10 =

50

15 +

5 +

0 +

0 =

20

OF
Mar 10, 2017 (Mar 1)

May 12, 2017 (Apr 27)

Jul 26, 2017 (Jul 17)

Oct 6, 2017 (Sep 19)

Dec 1, 2017 (Nov 8)

Mar 1, 2018 (Feb 2)

OF part 1
38 +

30 +

25 +

30 +

20 +

15 =

158

15 +

10 +

10 +

10 +

10 +

10 =

65

15
VF
Jul 15, 2018 (Jun 21)

Nov 12, 2018 (Sep 24)

Feb 4, 2019 (Jan 28)

VF part 1
20 +

20 +

20 =

60

10 +

10 +

10 =

30

15
SAM
May 23, 2019 (Apr 23)
SAM
51
46
14
SAAB
Apr 16, 2020 (Mar 23)
SAAB
50
45
15
Universe

Quests

Military

Player