The Rapid Fire Cannon is usually the first unit to be unlocked in the Progressive Era.
It gains an attack bonus when positioned on hills. Vulnerable to light class units, e.g. Conscript, but effective against fast units, e.g. Armored Car and heavy class unit, e.g. Tank.
It has the special ability Dug-in, so the Rapid Fire Cannon receives a significant defense bonus when the attacker is more than 2 hexes away.
Due to the 1.5:1 battlefield scaling in the Progressive Era, this unit is significantly more powerful than it appears. Tanks and Conscripts typically require 2 full moves to get into the range of an RFC placed in the back row, during which time the Tank and Conscript will sustain heavy losses.
Image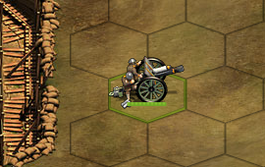 Against Same Age Units
Tank
The Rapid Fire Cannon counters the Tank very effectively. With it's superior range of 15, along with a bonus attack and defense of 25 against the tank, the Rapid Fire Cannon will dominate these encounters. A good tactic is to maintain a range of close to 15. This may involve backing up to the back row before the tanks perform their 2nd action.
Sniper
The Rapid Fire Cannon is neutral to weak against the Sniper. Neither unit has bonuses against each other, and both units have long range. When the Sniper takes cover in the woods or bushes, it has significantly better defense than the RFC, making the Sniper difficult to kill.
Armored Car / Champion
The Rapid Fire Cannon is strong against the Armored Car or Champion due to its bonus of 25 while attacking or defending. However, due to the high movement rate and decent range of the Armored Car / Champion, the RFC will not be as dominant as against the Tank. The RFC needs to fight alongside tanks to be dominant against lots of Armored Cars or Champions.
Conscript
In theory, the Rapid Fire Cannon should be weak against the Conscript, due to the Conscript's bonuses against artillery units. In practice, the RFC tends to dominate the conscript due to its superior range. Especially on maps with hills / swamps / forests that limit forward movement, the RFC is highly effective against the Conscript.
Other Military Units
Legend:

= Light Unit Class

= Heavy Unit Class

= Fast Unit Class

= Ranged Unit Class

= Artillery Unit Class
Community content is available under
CC-BY-SA
unless otherwise noted.