Reconstruction Mode is a special game interface that helps players to rearrange the city by offering temporary storage for the buildings. It is unlocked by the Mathematics technology.
Reconstruction mode is accessible by the fourth icon (icon with the construction crane symbol) in the building mode menu as shown below:

Reconstructing
Clicking the reconstruction mode button opens a new, empty section where buildings can be temporarily stored to make rearranging the city easier. The temporary storage can be filled with buildings, Great Buildings and roads by clicking on the entity in the city and adding them to the storage. The only building that cannot be moved to the storage is the Town Hall.
Stored buildings will be arranged in tabs according to the building type. Set buildings will also display the respective icon.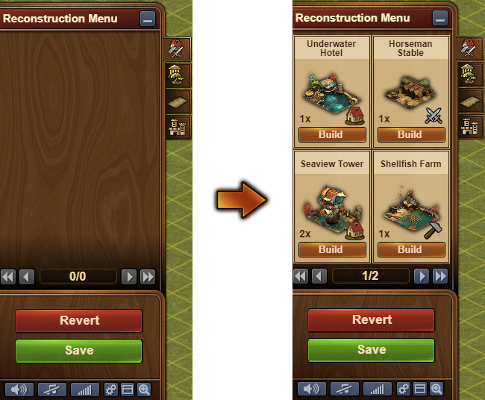 ​
When enough room has been made in the city, the buildings can be placed back onto the city grid. All the buildings must be placed back to the city before the changes can be saved. If the player backs out of the reconstruction mode without applying the changes, the city layout is temporarily saved and the buildings in temp storage remain there; any buildings newly constructed in the city while there is a temp-saved layout are added to the temp storage when the player returns to Reconstruction Mode. At any point before saving, the changes can be reverted and the old city layout restored.
Buildings in the temporary storage do NOT have their production timers stopped, hence production continues as normal unless a new city layout is applied which has Set buildings disconnected from each other.
Gallery
Community content is available under
CC-BY-SA
unless otherwise noted.