The Royal Garden Set is a building set released with the 5th Anniversary Event. The set consist of three buildings which all were awarded for completing the event questline.
The buildings that belong to the set are identifiable by the Crown icon (show on the right) which is displayed in the players inventory next to the buildings picture.
The footprint of the the Royal Garden Set is 17 tiles. Note that the layout presented on the picture below does not provide all the buildings with all the set bonuses. To gain all the set bonuses each of the buildings much be adjacent to both other buildings.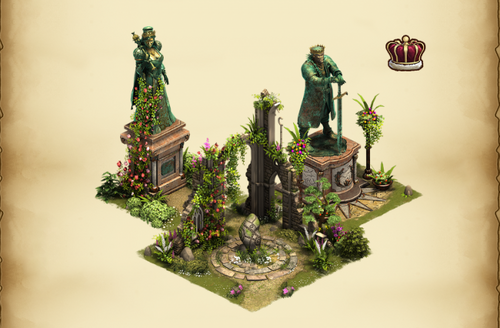 Buildings
[
]
Production
[
]
Resources from the Royal Garden Set buildings can be collected every 24 hours. The Garden Ruins only has a passive effects and can not be collected from.
Table below shows the combined properties of a full set.

Age

Happiness

Coins

Medals

Goods

FPs

Defense Boost
BA
290
440
2
5
(all ages)
2
(all ages)
5%
(all ages)
IA
360
1,060
2
EMA
410
1,760
3
HMA
470
2,772
3
LMA
530
3,340
3
CA
600
4,280
4
INA
670
5,340
6
PE
750
6,640
9
ME
830
8,260
12
PME
910
10,140
16
CE
1,000
12,500
20
TE
1,160
15,280
25
FE
1,360
18,440
30
AF
1,580
22,000
36
OF
1,830
25,980
42
VF
?
29,100
50
See also
[
]