The Selection Kit is an item that lets the player to decide if they want to upgrade an eligible special building to a higher level or build a new level 1 version of that building. Each kit can only be used once. The choice is made through a special interface after the player has used an item.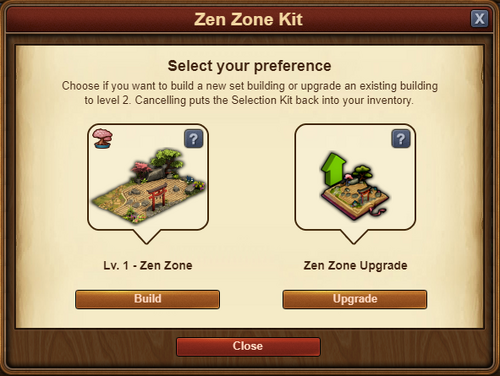 Once the selection kit is used the selected building must be placed in the city or the selected upgrade kit must be used on an existing eligible building. Cancelling puts the selection kit back to the inventory. Therefore the selected upgrade kit nor the new building can not be placed straight to inventory.
Selection kits were first introduce in the 2018 Spring Event for the Cherry Garden Set buildings since many players did not have complete sets, or did not have any buildings from the set at all, therefore the selection kits gave players more flexibility to decide how to play.
2018 Summer Event introduced three new selection kits. Each kit offers the player to pick a new level 1 Ship but no upgrade kit for that building. Instead each kit offered three other choices.
2018 Summer Event Selection Kits
2018 Summer Event introduced Pirate Selection Kit, Royal Selection Kit and Trader Selection kit. Each kit gives the player a choice from 4 rewards having the Ship (level 1) as a common option.
Cherry Garden Set Selection Kits
For more information see the Cherry Garden Set.
The Cherry Garden set was released during the 2017 Spring Event. The upgraded version was released a year after during the 2018 Spring Event. During the event players were able to earn the selection kits for each five of the set buildings.
Spring Selection Kit
Graveyard Selection Kit
For more information see the Graveyard.
The Graveyard is a special cultural building first given as a reward during the 2012 Halloween Event. 2018 Halloween Event introduced the Graveyard Selection Kit. By that time the Graveyard had received a yearly upgrades up until the 2017 Halloween Event when it reached level 6 Necropolis.
Greater Runestone Selection Kit
For more information see the Greater Runestone.
The Greater Runestone is a special residential building that is only obtainable by collecting fragments of the Greater Runestone Selection Kit, given as a reward for finishing a Viking settlement within a certain amount of time.
Piazza Selection Kit
For more information see the Piazza Set.
The Piazza Selection Kit was introduced in the 2019 Carnival Event. When opening the kit, players receive a choice of all five Piazza Set buildings and kits to upgrade those buildings to level 2.
Winter Deco Selection Kit
The Winter Deco Selection Kit was one of the available presents in the 2018 Winter Event. It allows players to choose between seven different winter themed decorations.
See also
Notes
↑

Amount depends on the player's current era