Information
The Slinger is the very first ranged unit to be researched in the game. They are useful as they have a moderate attack value but low defense and moderate speed. Slingers gain an attack bonus on rocks. They're effective against heavy units.
Usage
Slingers do not do a lot of damage compared to other ranged units. They can be used for attacking warriors and also spearfighters. However, they have very low defense, which means even the stone thrower can damage it significantly. They have only a minor role in this age, and the Iron Age Archer is better in every way.
It is suggested to pair slingers with troops such as the Spearfighter, as they can protect the slingers from the Horseman. Warriors are not a big threat to Slingers as slingers have a defense bonus against them as well as the fact that warriors will attack light units unless there are none nearby before attacking slingers. It is strongly suggested to research the Archer of the Iron Age and replace the Slinger.
History
In the Bronze Age, slingers were first used by herders to protect their flock, then they were used in warfare, Slingers could fire 10 stones in a minute and it could be thrown at a specific part of the body such as the head or chest they were used from the Bronze Age all the way to they Early Middle Ages
Appearance
The Slinger is seen wearing a blue tunic and a pouch and a sling
Image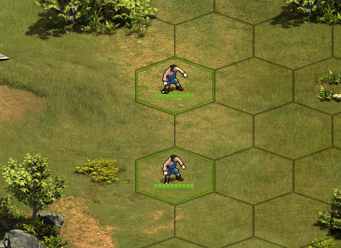 Other Military Units
Legend:

= Light Unit Class

= Heavy Unit Class

= Fast Unit Class

= Ranged Unit Class

= Artillery Unit Class