The Sniper is usually the fourth unlocked unit of the Progressive Era. The Sniper has moderately low damage and defense, but long attack range and moderately high speed. It gains a defense bonus in bushes and forests, and is effective against light units, e.g. Conscript, but vulnerable to both fast units and heavy units.
It has the skill "Dug-in", giving it a defense bonus if an attacking unit is more than 2 tiles from away.
Against Same Age Units
[
]
Although Tanks don't have enough mobility to get near to Snipers quickly, snipers are nearly ineffective against Tanks. Snipers don't have a high attack to stand against the massive defense and bonus against Ranged Units of the Tanks.
Conscripts are the primary targets for Snipers as they have massive attack and defense bonus against Light Units, so taking out conscripts with snipers should be the priority. The only way a Conscript can win a duel against a sniper is when it manages to get close-quarters and the sniper is not in a forest or in a bush.
The Armored Car is a major threat. It is not as thick as a Tank but it's mobility allows it to get near a sniper to deny it's Dug In bonus and deal significant damage, even if the sniper is inside a forest. Avoid this matchup.
Although the Sniper isn't particularly harmful against Artillery, this isn't a fight the Rapid Fire Cannon can win. The great defensive bonuses of the Sniper means the low damage of the Rapid Fire Cannon can do nothing about it. Besides, apart from the Conscript, the Rapid Fire Cannon is a primary target for the Sniper.
Image
[
]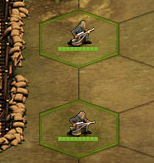 history
Sniper riffles were actually invented in the 1800s but it didn't get popular until the 1900s and was used a lot in World War 1 and World War 2.
Other Military Units
[
]
Legend:

= Light Unit Class

= Ranged Unit Class

= Artillery Unit Class

= Heavy Unit Class

= Fast Unit Class