The Soldier is the light unit of the Iron Age, and is produced in the Soldier Barracks. It is the successor of the Spearfighter. Just like its predecessor,  Soldiers are very efficient thanks to their moderately high attack, defense, and speed. They gain two movement points compared to the Spearfighter, giving it more mobility. They are the fastest units after fast units and receive defense bonus when in bushes and forests.
The Soldier also benefits from combat bonuses against fast units, making them very effective at countering fast units such as Mounted Warrior. However, heavy units such as the Legionnaire have combat bonuses against Soldiers.
Usage
A good tactic of using the Soldier is to hide in forests/bushes to boost its defense. It is recommended to use Soldiers to replace Warrior units until a player gets the Legionnaire, as it is superior, or at least equivalent in attack, defense, and movement to Warriors.
Soldiers are also very effective against the fast unit of the age, the Mounted Warrior. It can also two hit kill the Archer, making it a good counter against it.
It also remains effective against the EMA Heavy Cavalry. However, they are outmatched by the Mercenary.
History
In the Iron Age, professional armies started to take form in Europe and the Middle East. One of the greatest was the Roman Empire. The Roman Empire fielded one of the best armies in the world, and the ordinary Soldier made up most of its ranks.
Appearance
Soldiers appear to have a conical bronze helmet and bronze armor and a long spear made of iron.
Image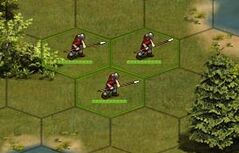 Other Military Units
Legend:

= Light Unit Class

= Heavy Unit Class

= Fast Unit Class

= Ranged Unit Class

= Artillery Unit Class
Community content is available under
CC-BY-SA
unless otherwise noted.