Information
Sot Dam Lay is the first of Minh Ho-Chi's Postmodern Era provinces, accessible after taking over Cai Chet Nui.
Welcome Text
First
We value independence and liberty. You too? Then we will be friends!
Second
You'll kill 10 of our men. We will kill 1 of your own. In the end, it will be you who gets tired of this.
Attack
You don't want to negotiate? That is your decision!
Map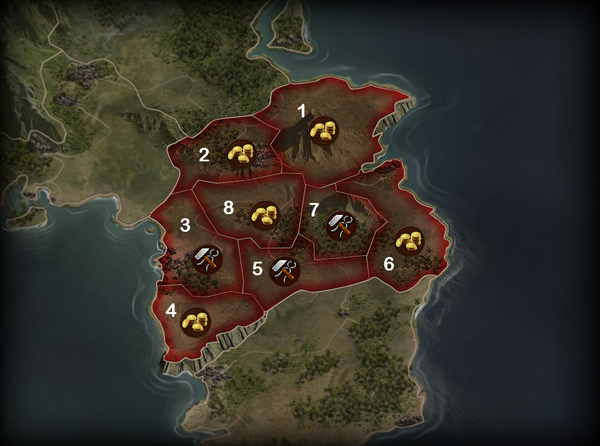 Sectors
Sector
1st Wave

Defending Army

2nd Wave

Defending Army

Negotiation Cost
Loot
1
3 Mechanized Artillery
1 Battle Tank
2 Universal Tank
1 Bazooka Team
2 Battle Tank
1 MG Team
1 IFV
1 Universal Tank
30 25 30 20
12,000
2
4 Paratrooper
2 Rocket Artillery
3 Paratrooper
3 Rocket Artillery
30 20 30 25
12,000
3
2 Mechanized Artillery
2 Bazooka Team
2 Commando
1 Bazooka Team
2 Mechanized Artillery
3 MG Team
30 20 30 25
12,000
4
4 Battle Tank
2 IFV
3 Paratrooper
3 Universal Tank
25 30 30 20
12,000
5
4 Bazooka Team
2 Rocket Artillery
2 Paratrooper
1 Bazooka Team
1 Universal Tank
2 Rocket Artillery
30 20 25 30
12,000
6
2 Mechanized Infantry
2 Battle Tank
2 Universal Tank
3 Mechanized Infantry
3 IFV
25 30 30 20
12,000
7
2 Bazooka Team
2 Paratrooper
2 MG Team
3 Mechanized Artillery
3 Commando
30 30 20 25
12,000
8
4 Mechanized Infantry
2 Universal Tank
3 Mechanized Infantry
2 IFV
1 Universal Tank
30 20 25 30
12,000
Other Provinces